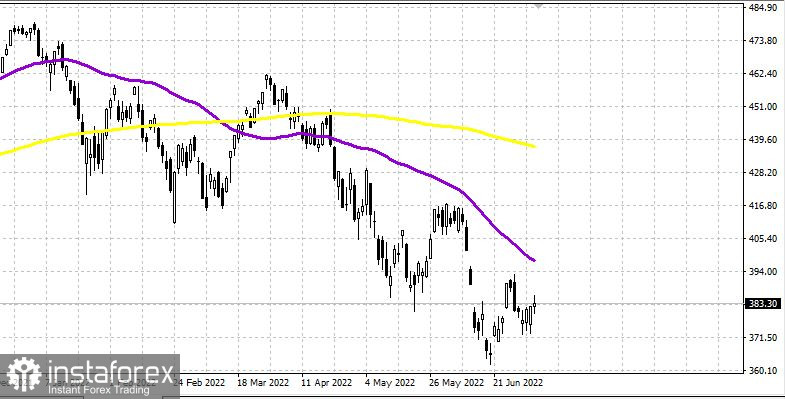 S&P500
US market resists negative sentiment from Fed
On Wednesday, the US stock market was bullish. The Dow added 0.2%, the NASDAQ gained 0.4%, and the S&P500 was up by 0.4%.
The S&P500 index is trading at 3,845 and is expected to be in the 3,780–3,800 range.
The Fed minutes were published yesterday. The market expects a Fed rate hike of +0.75% as early as 27 July. This is, of course, a negative trend.
As for the labour market, there was a significant drop in job openings. Their number fell by 427,000 to 11.3 million. This is the second big decline since March.
The market is waiting for the June labour market report. It will be published tomorrow. Jobs are expected to rise by +200+250K.As for the commodity market, oil prices are no longer rising. Brent is trading at $101 per barrel.
Kazakhstan plans to scale up oil production that bypasses Russia.
Gas prices in Europe are surging again. According to the London ICE stock exchange, gas prices reached $1,840 per thousand cubic meters. The reason for this is a sharp decline in Gazprom's supplies.
The IMF downgraded its global GDP growth forecast for the current year to 3.6%. There is a possibility of a downturn in the world economy in 2023.
The dollar has reached a high of the year and is trading at a 20-year peak. The US dollar index is trading at 106.90.Meanwhile, EUR/USD is at 20-year lows and is trading at 1.0195.
The US market is flat. One can try to open long positions. However, the world economy is moving slowly towards a major crisis.Notably, the companies that produce major military equipment for conventional warfare, such as missile defence systems, MLRS, artillery systems, air defence and anti-tank defence systems, have excellent prospects in the coming months. In the US, these are all owned by private companies. Many are publicly traded, and their profits will increase significantly in the next six months to a year.