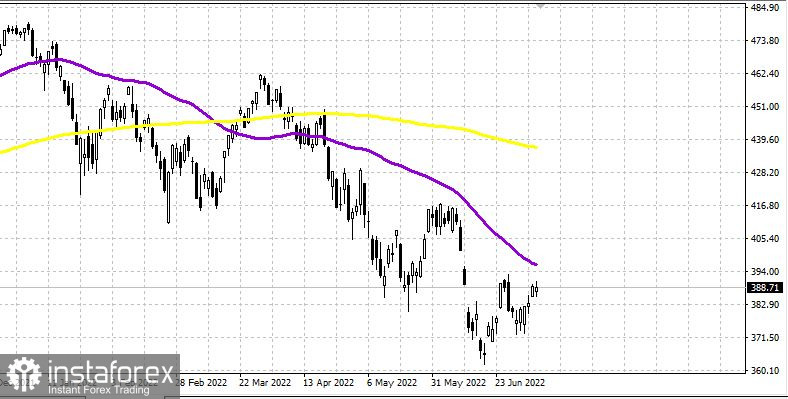 S&P500
Main US indices were mixed on Friday. The Dow lost 0.15%, the NASDA gained 0.1%, the S&P500 dropped by 0.1%.The S&P500 is at 3,899, staying in the 3,860–3,940 range.
Friday saw an unexpectedly strong US jobs report for June. Employers created another 370,000 jobs in June against forecasts of 200,000-250,000. The unemployment rate also remained low at 3.6%. It was expected to reach 3.7% Of course, a strong labour market is very good news for investors amidst persistent worry about a recession. However, the strong labour market is an indication for the Fed to continue hiking the rate quickly. As early as July 27, we expect a rate hike of +0.75%.
The markets are waiting for the US inflation reports for June on July 13-14. Overall inflation is expected to be +1% month on month. At this rate, annual inflation is expected to be 12%. This is a high inflation rate for the US economy. In Europe, inflation is also at very high levels, up to +10% per annum.
Turkey said it hoped to hold a meeting regarding the unblocking of Ukrainian ports in the coming days.
Crude oil is under pressure at the opening of the week. The price is down by 1.5%. Brent is trading at $105. Oil is losing ground amid expectations of a recession in the global economy.
Notably, both Brent and WTI oil futures are in backwardation at the beginning of the week. Thus, futures price for October delivery are $2-3 cheaper than the near-term contract. This suggests that oil prices are expected to fall by the autumn.
The US Secretary of Commerce believes that the country is unlikely to face a recession. However, many prominent experts and businessmen have the opposite view.
Elon Musk announced that he would abandon his offer to buy Twitter after the company had failed to provide enough information about the number of fake accounts. Twitter said it would sue the Tesla CEO.
The gas crisis is still raging in Europe. Gazprom today halts gas deliveries via Nord Stream until 21 July for scheduled maintenance work.
The US market is ready to rise. However, it needs momentum. It could be a better or worse than forecast inflation report.