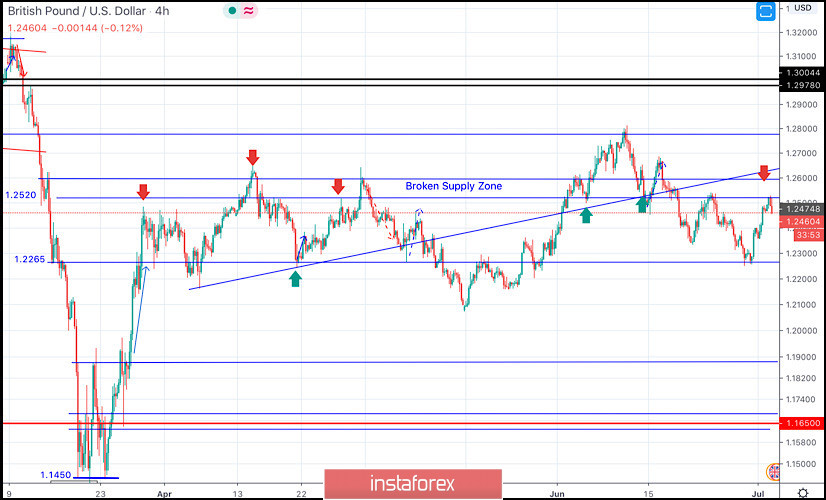 Recently, Bullish breakout above 1.2265 has enhanced many bullish movements up to the price levels of 1.2520-1.2590 where temporary bearish rejection as well as a sideway consolidation range were established (In the period between March 27- May 12).
Shortly after, transient bearish breakout below 1.2265 (Consolidation Range Lower Limit) was demonstrated in the period between May 13 - May 26.
However, immediate bullish rebound has been expressed around the price level of 1.2080.
This brought the GBPUSD back above the depicted price zone of 1.2520-1.2600 which failed to offer sufficient bearish rejection.
Hence, short-term technical outlook has turned into bullish, further bullish advancement was expressed towards 1.2780 (Previous Key-Level) where signs of bearish rejection were expressed.
Short-term bearish pullback was expressed, initial bearish destination was located around 1.2600 and 1.2520.
Moreover, a bearish Head & Shoulders pattern (with potential bearish target around 12265) is being demonstrated on the chart.
That's why, bearish persistence below 1.2500 ( neckline of the reversal pattern ) pauses the bullish outlook for sometime and should be considered as an early exit signal for short-term buyers.
Any bullish pullback towards 1.2520-1.2550 (recent supply zone) should be watched by Intraday traders for a valid SELL Entry.