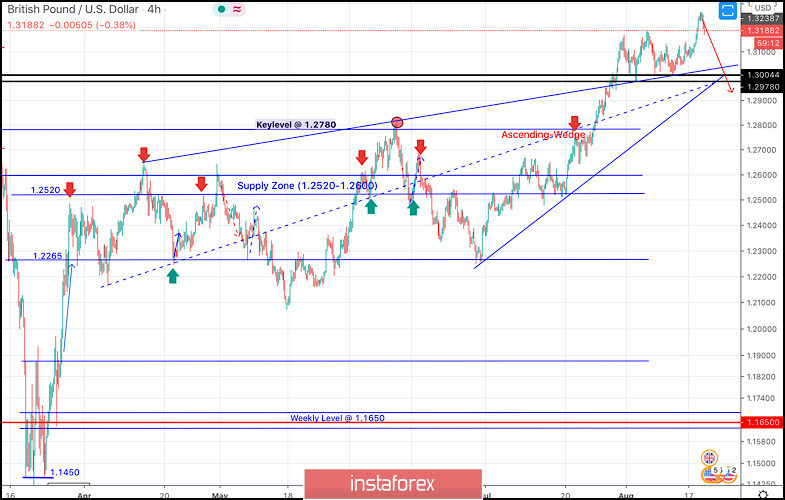 In the period between April and June 2020, the GBPUSD has been moving sideways within the depicted consolidation range extending between (1.2265 - 1.2600)
Transient bearish breakout below 1.2265 (consolidation range lower limit) was demonstrated in the period between May 13 - May 26, denoting some sort of weakness from the ongoing bullish trend.
However, immediate bullish rebound has been expressed around the price level of 1.2080 bringing the GBP/USD back towards 1.2780 (Previous Key-Level) where another episode of bearish pullback was initiated.
Short-term bearish movement was expressed towards 1.2265 where Significant bullish rejection was originated bringing the GBP/USD pair back towards 1.2780 where the mid-range of the depicted wedge-pattern failed to offer enough bearish rejection.
Intermediate-term Technical outlook for the GBP/USD pair remains bullish as long as bullish persistence is maintained above 1.2780 (Depicted KeyLevel) on the H4 Charts.On the other hand, the pair looks overbought after such a quick bullish movement. Hence, upcoming bearish reversal shouldn't be excluded provided that early bearish breakout occurs below 1.2980 (the depicted wedge pattern upper limit).
Trade recommendations :
Technical traders are advised to wait for any upcoming bearish breakdown below 1.2980 as a valid SELL Entry.
Initial T/p level is to be located around 1.2780. On the other hand, bullish persistence above 1.2980 invalidates this trading scenario.