XAU/USD rallied in the last hors rebouding above $1,900 psychological level. The bulls are still in charge ahead of the Non-Farm Payrolls. Poor US data could boost the yellow metal's price.
On the other hand, better than expected economic figures should push EUR/USD down and could help the gold's sellers to step in again. Unfortunately, the COVID-19 crisis is far from being over. A second wave and an increased global risk could send gold at fresh historical highs.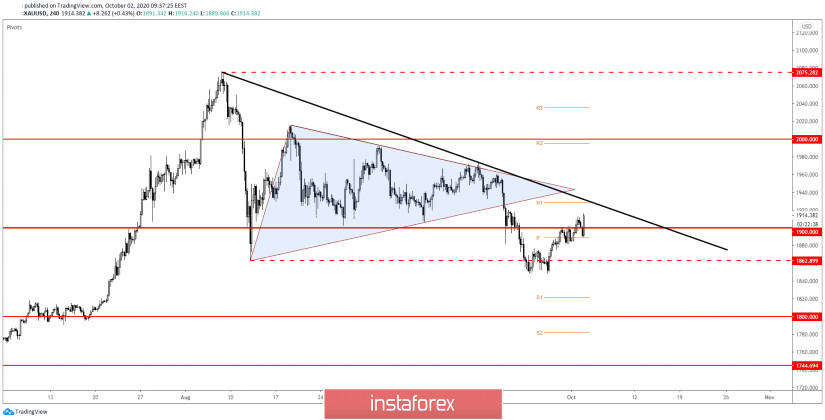 Gold has found support right below $1,862 static downside obstacle. Now, it has managed to return above the $1,900 level and is likely to reach the black downtrend line. A valid breakout above it could really suggest buying as the rate will be expected to accelerate towards $2,000 level.
You should be careful because the current breakout above the $1,900 could be invalidated. The bearish pressure remains high as long as the rate stands under the downtrend line.
If you are a seller, you should wait for a valid breakdown below the $1,862 and for a brand new lower low before going short. Also, a false breakout with great separation above the downtrend line could suggest selling.
Buy a valid breakout above the downtrend line, jump, close, and retest. The $2,000 and $2,075 are seen as potential upside targets.
Sell a new lower low, bearish closure right below $1,848 with targets at $1,800 and lower at $1,744.