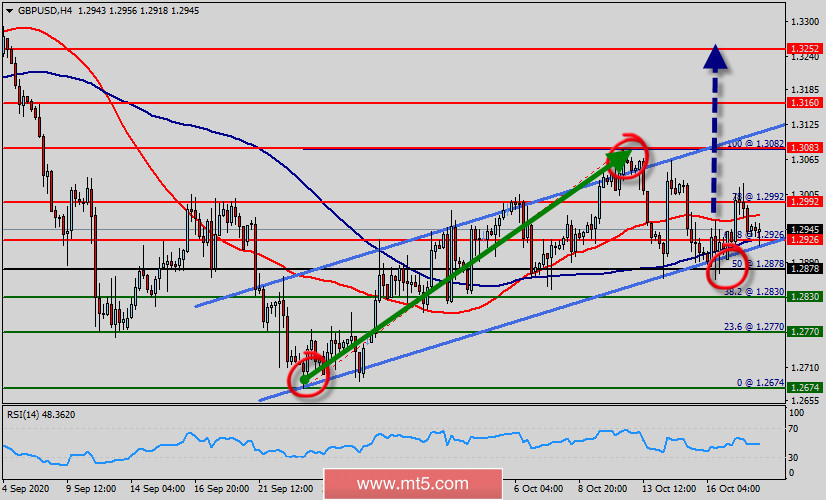 Overview :
The GBP/USD pair can still form an ascending impulse, it continues to rise upwards. The major support is seen at 1.2878 which coincides with the ratio of 50% Fibonacci.
According to the main scenario, it may start forming correctional structures. Today, we foresee the price to move towards the level of 1.2992 and then reach a new maximum again around the price of 1.3082.
Please, note that the strong resistance stands at the level of 1.3082. If the price breaks the level of 1.3082, we expect potential testing of 1.3160.
The current ascending structure implies that the market may reach the level of 1.3160. In this area, the trend is challenging a major resistance level.
RSI (14) is seeing major support above 30 where we expect further upside movement from ths area of 1.2878. The market is still indicating a strong bullish trend from the level of 1.2878.
The ascending impulse is strong enough to buy above the support of 1.2878. Therefore, the price is expected to reach a high once again. It is rather gainful to buy at 1.2900 with the targets at 1.2992 and 1.3082. So, it is recommended to place take profit at the price of 1.3160 as the first target today.
On the contrary, stop loss should be placed at the price of 1.2830 (below the daily support). The bullish outlook remains the same as long as the RSI indicator is pointing to the upside on the four-hour chart.
Forecast :
According to the previous events the price is expected to remain between 1.2878 and 1.3083 levels.
Buy-deals are recommended above 1.2878 with the first target seen at 1.2992. The movement is likely to resume to the point 1.3082 and further to the point 1.3160. The decending movement is likely to begin from the level 1.2878 with 1.2830 and 1.2674 seen as targets.