Yesterday, the President of the ECB, Christine Lagarde, gave a speech in which she said that covid vaccines reduce uncertainty in the market and added that full lockdown is not the best way to deal with the second wave.
This supported the bullish strength of the euro in the short term. However, it appears weak in the long term.
The EUR/USD pair remains above the pressure line of 21-day SMA, and above the 200 EMA, maintaining its medium-term uptrend channel.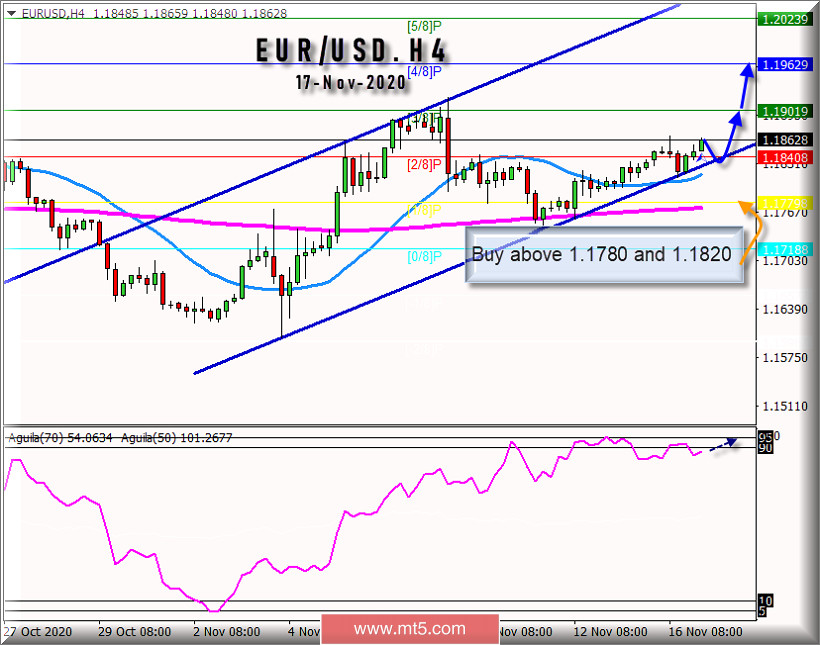 The eagle indicator is in the overbought zone on the 4-hour chart, but the bullish force is likely to be wearing off.
On the other hand, if the pair remains above the 1.1780 key level, it is likely that there will be a bullish movement to 1.1901 (3/8) of murray and 1.1962, (4/8), the level of strong resistance.
The short-term outlook continues to favor the upside. On the chart, we have plotted the areas where you should be alert to a possible trend reversal.
The pair will have a lot of bearish pressure if there is a breakout below 1.1785, EMA (200). Its next supports are at 1.1718 and 1.1625.
Our Recommendation:
Buy above 1.1820 and 1.1780 with targets at 1.1901 and 1.1962 in extension.
Alternative scenario:
Below 1.1785 seek more downward pressure (or fall) with 1.1718 and 1.1635 as targets.
Technical Comment:
Eagle Indicator Over Buy signal.