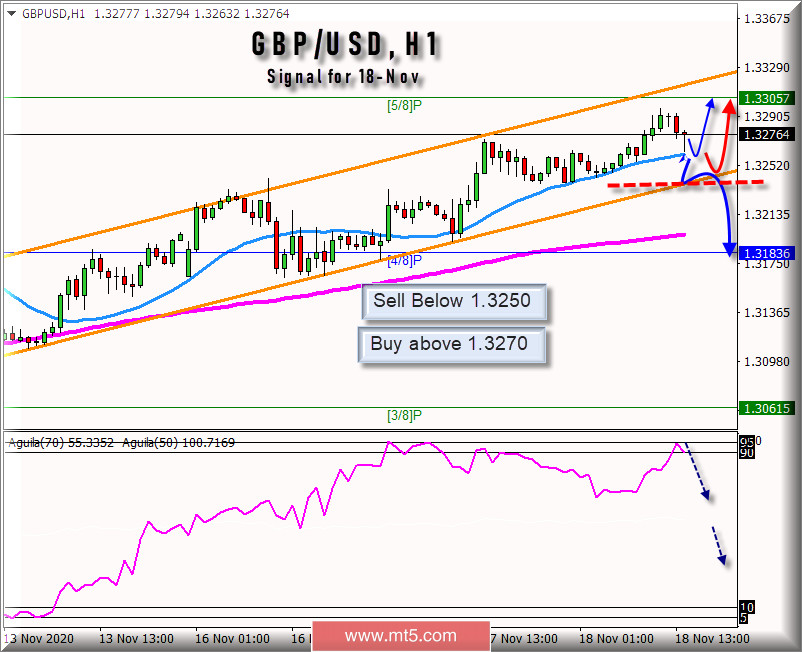 The GBP / USD pair continues to move higher, this morning in the American session it reached the maximum of 1.3297, while it is trading above the 21-day EMA, around 1.3260, it is very likely that it will still have bullish strength up to 1,3305 (5/8 of murray).
The British pound has a bullish bias, supported by the hopes of a possible last minute Brexit deal, if so it is likely that there will be a rally to the 1.3427 zone (6/8 murray)
On the other hand, since the eagle indicator is showing a bearish signal, we are likely to expect a correction, only if the pair breaks the 1.3250 level, it would advance to the 200-day EMA at 1.3183 (4/8 of a murray).
We must be careful when selling this pair as it is being supported by fundamental data, so our recommendation is that you buy this pair every time it rebound around support.
A more sustainable downward movement can be seen only if it trades below the 200 EMA 1.3183 zone, only then, we can sell with targets up to the psychological level of 1.30.
The eagle indicator is at the level of 90, there could still be more strength up to the 95 overbought area, so it is likely that the market will still look for movements with an upward trend.
Market sentiment shows that 61% of investors are short, which supports the analysis that there may be even more upward movement of the pair to levels of 1.3305 and 1.3427 in the medium term.
Trading tip for GBP/USD for November 18:
Buy if the pair rebounds around 1.3260 (EMA 21) with target at 1.3305 and 1.3367, stop loss below 1.3230
Buy if the pair rebounds around 1.3245 (Trend line) with target at 1.3305 and stop loss below 1.3220
Sell if the pair breaks below 1.3240 with take profit at 1.3183 (EMA 200) and stop loss above 1.3270 (EMA 21)