The pair has turned to the upside again after reaching static support and now it is approaching an immediate major resistance. USDX's rebound has boosted the pair. So, USD/CHF could climb higher if the US Dollar Index continues to increase.
Still, is premature to talk about an upward reversal as long as USD/CHF stays under 0.92 psychological level. The pair is trading in the green even if the Switzerland Trade Balance was reported higher at 3.86B, exceeding 3.55B estimates. Better than expected US data could spur the pair's rate.
USD/CHF Upside Momentum!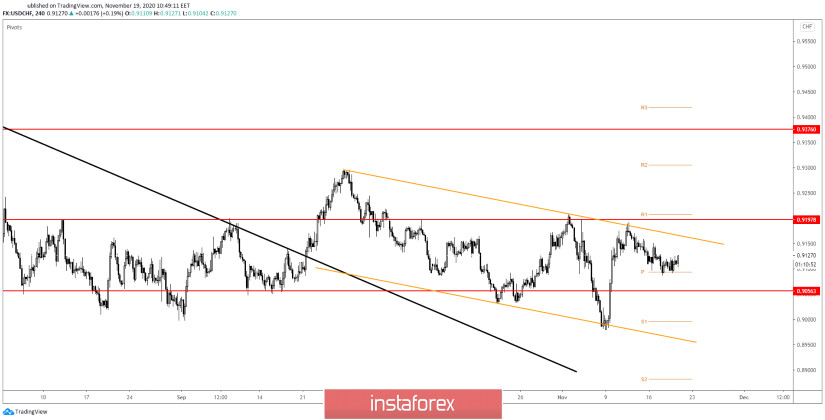 USD/CHF is trapped within a down channel, so only an upside valid breakout will suggest buying and will confirm a new leg higher. Technically, the pair was somehow expected to give birth to an upside reversal after breaking above the major black downtrend line but unfortunately, the USDX's drop has kept the greenback lower.
The price failed to come back to test and retest the black downtrend line signaling an imminent upside breakout and a new higher high witch validates the up reversal.
USD/CAD Trading Scenarios
A valid breakout from the down channel and a new higher high, bullish closure above the R1 (0.9208) brings a long opportunity with targets at 0.9376 and higher at the R3 (0.9419) level.
It has tested and retested the Pivot Point (0.9094) level and now it seems determined to climb higher again.