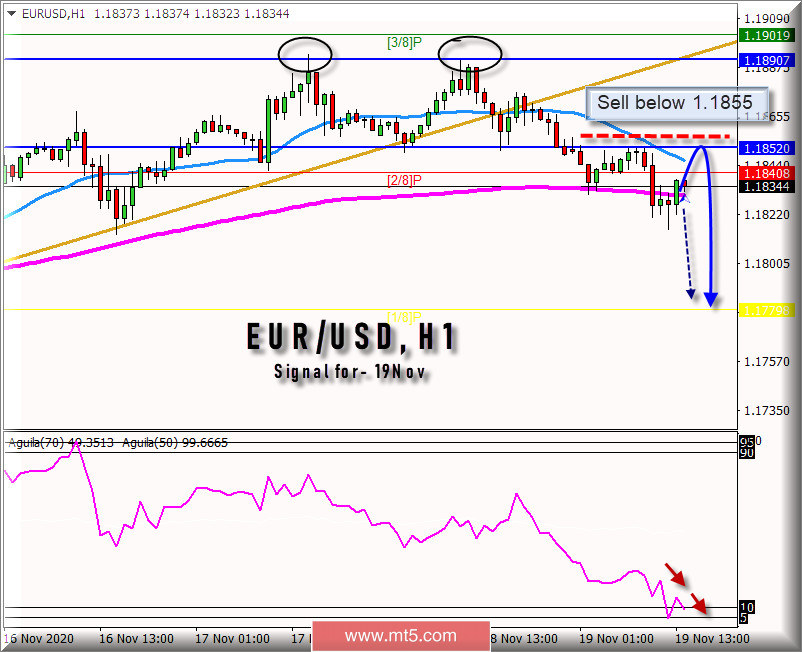 our daily analysis we pointed out this possible movement, and left details that make sense for you to review. This supports our idea that in the short term there may be a bearish continuation to levels of 1 / 8th of a murray.
According to the chart that you can see, it has made two attempts to break the 200 EMA, leaving a memory at 1.1852. We can draw a reference line there if the pair tries to rise, the price should exceed this level and consolidate above it.
On the other hand, if the EUR/USD pair does not break this area and makes a pullback towards this level, we can consider it as an opportunity to sell this pair, with EMA 200 and 1/8 murray targets.
In addition, you may notice that the euro has made two attempts to break 1.1890, leaving a pattern of a double top bearish reversal, which favors our strategy that more downward pressure could appear in the short term.
If you notice, the eagle indicator is in the almost overbought zone in the 1-hour chart, which we must expect a rebound to resistance zones if we want to sell this pair.
The next target below is the 1.1770 (1/8 murray) yellow line, this is a key support level which will mark the start of a much more bearish move.
In a broader perspective, the key resistance remains 1.1920. The break from that level would leave the road with few obstacles until 1.20.
Market sentiment has 72.8% of investors holding short positions, which means that we can expect there to be still upward force in the market, but before that we must expect corrections.
Trading tip for EUR/USD for November 19:
Sell below 1.1852 (memory line) with take profit at 1.1820 and 1.1770 and stop loss above 1.1870
Sell if the pair breaks below 1.1825 with take profit at 1.1779 (1/8 murray) and stop loss above 1.1870.