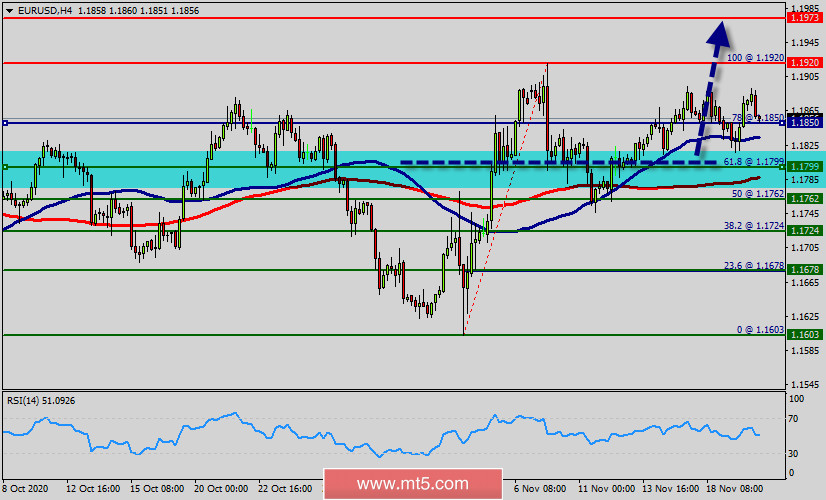 Overview :
The EUR/USD pair climbed from 1.1800 to 1.1920 and closed at the price of 1.1850. But, this week we note that the market above the level of 1.1850.
Please, note that the resistance stands at the levels of 1.1920 and 1.1973 in the 4H time frame. In the longer term, the strong resistance at 1.1973 (last week's high, see also the long-term declining trendline from the November peak) continues to represent a major hurdle.
Therefore, right now the first descending impulse is forming the first one; the market is being corrected from the area of 1.1800 this week.
In our opinion, the EUR/USD pair may grow up to test 1.1920 from above and then form the second ascending impulse with a target at 1.1920 to test the double top.
Furthermore, the level of 1.1920 will form a double bottom which represents the major support level this week.
Today, if the trend is able to close above the level of 1.1920, the price will rise into the bullish market in order to go further towards the strong resistance at 1.1973.
In the the daily time frame, the pair will probably go up because a upward trend is still strong and the RSI indicator is still signaling that the trend is upward.
Conclusion
The depicted resistance level of 1.1800 acted as an important key level offering a valid buy entry. So, buy at the 1.1800 level with the targets of 1.1920 and 1.1973 this week. Conversely, stop loss should be placed below the low reached near the second support (1.1762).