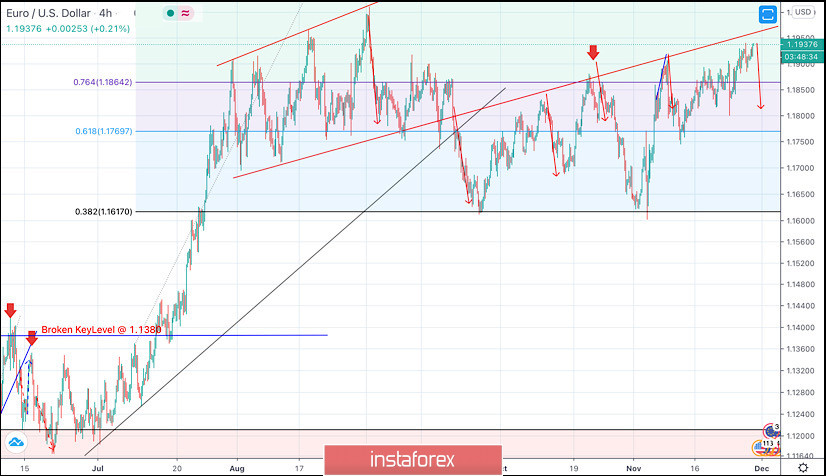 Intraday traders should have noticed the recent bearish closure below 1.1700. This indicated bearish domination for the market on the short-term.
However, the EURUSD pair has failed to maintain sufficient bearish momentum below 1.1625 (38% Fibonacci Level). Instead, another bullish breakout was being demonstrated towards 1.1870 which corresponded to 76% Fibonacci Level.
As mentioned in previous articles, the price zone of 1.1870-1.1900 stood as a solid SUPPLY Zone corresponding to the backside of the broken channel.
Moreover, the recent bearish H4 candlestick closure below 1.1770 was mentioned in previous articles to indicate a valid short-term SELL Signal. All bearish targets were already reached at 1.1700 and 1.1630 where the current bullish recovery was initiated.
The current bullish pullback towards the price zone of 1.1900-.1930 is supposed to be considered for signs of bearish rejection and another valid SELL Entry. S/L should be placed just above 1.1980.
Bearish closure and persistence below 1.1860 (76.4% Fibonacci Level) and 1.1777 (61.8% Fibonacci Level) is needed to enhance further bearish decline at least towards 1.1630.
Otherwise, the EURUSD pair remains trapped between the previous key levels (1.1770 and 1.1950) until breakout occurs in either directions