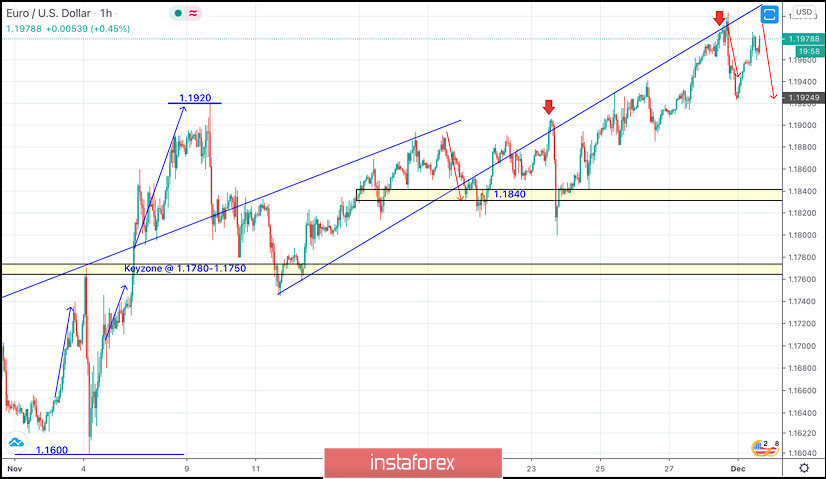 In October, Two opportunities for SELL Entries were offered upon the recent upside movement towards 1.1880-1.1900. All target levels were achieved.
However, after such downside movement, evident signs of bullish reversal were demonstrated around the depicted price levels of 1.1600.
Shortly after, the EUR/USD pair has demonstrated a significant BUYING Pattern after the recent upside breakout above the depicted price zone (1.1750-1.1780) was achieved.
As mentioned in the previous article, the pair has targeted the price levels around 1.1920 which exerted considerable bearish pressure bringing the pair back towards 1.1800 which constituted a prominent KEY-Zone for the EUR/USD pair.
Recently, the price zone around 1.1840 was mentioned as a prominent KeyZone to be watched for Price Action. Since then, the pair has been failing to breakthrough below it.
That's why, another upside movement was expressed towards 1.1950-1.1980 where the previous episode of bearish rejection was manifested.
Moreover, Bearish closure below the mentioned price zone of 1.1840 is needed to turn the intermediate outlook for the pair into bearish and enhance a quick bearish decline towards 1.1750.
Trade Recommendations :-
Currently, the price zone around 1.1950-1.1980 ( backside of the broken trendline ) stand as significant Resistance-Zone to offer a valid SELL Entry. Exit level should be placed above 1.2000.