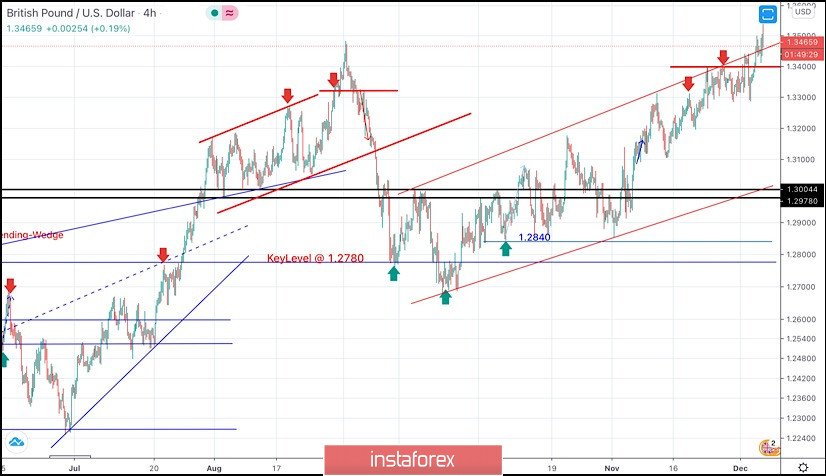 Back in August, Bullish Breakout above the price zone of 1.3300 was achieved. This was supposed to allow bullish pullback to pursue towards 1.3400 as a final projection target for the suggested pattern.
However, the GBP/USD pair failed to do so. Instead, another bearish movement was targeting the price level of 1.2840 and 1.2780 where bullish SUPPORT existed allowing another bullish movement initially towards 1.3000 which failed to maintain sufficient bearish momentum.
That's why, the recent bullish breakout above 1.3000 has enabled further bullish advancement towards 1.3250-1.3270 where the upper limit of the new movement channel came to meet the GBP/USD pair.
Later on, further bullish advancement was expressed towards 1.3380-1.3400 where the pair looked overbought after failure of the previous price zone to offer sufficient bearish pressure on the pair.
Bearish Price action was demonstrated around the price levels of (1.3380-1.3400) as a valid SELL Entry Signal.
Initial bearish target was reached around 1.3300. However, the pair has failed to pursue towards lower targets.
Instead, another bullish spike is being expressed towards 1.3470 where the upper limit of the depicted movement channel is being exceeded.Although the GBPUSD pair looks overbought around the current price levels, intermediate-term remains bullish unless the pair returns to move below 1.3400 soon enough.