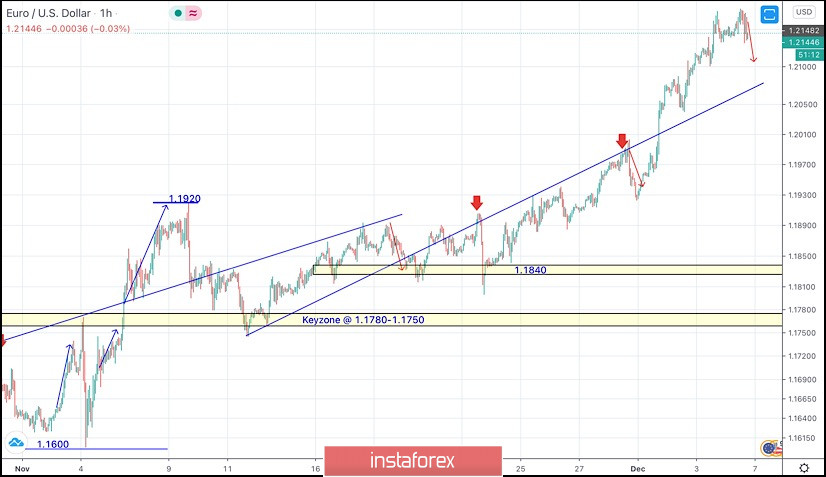 After such downside movement that took place in November, evident signs of bullish reversal were demonstrated around the depicted price levels of 1.1600.
Shortly after, the EUR/USD pair has demonstrated a significant BUYING Pattern after the recent upside breakout above the depicted price zone (1.1750-1.1780) was achieved.
As mentioned in the previous article, the pair has targeted the price levels around 1.1920 which exerted considerable bearish pressure bringing the pair back towards 1.1800 which constituted a prominent KEY-Zone for the EUR/USD pair.
Recently, the price zone around 1.1840 was mentioned as a prominent KeyZone to be watched for Price Action. Since then, this price zone has been acting as a prominent SUPPORT & the pair has been failing to breakthrough below it.
That's why, another upside movement was expressed towards 1.1950-1.1980 where the depicted trendline failed to offer sufficient resistance.
Further upside movement is being demonstrated towards 1.2160 where a false breakout to the upside may be expressed as a possible bearish reversal signal.
Hence, Bearish closure below the mentioned price zone of 1.2100 is needed to turn the intermediate outlook for the pair into bearish and enhance a quick bearish decline towards 1.1920 and 1.1840.
Trade Recommendations :-
Currently, Conservative traders should be looking only for SELL Positions. Bearish Closure below 1.2100 should be waited for confirmation. Exit level should be placed above 1.2160.