Volatility is quite low, as investors took a wait-and-see position before an important meeting of the European Central Bank, following which the regulator will reduce its interest rates. The US Federal Reserve could do the same next week. This will be done to stimulate the growth of the economy of the country in conditions of tension in international trade and restrained inflation.
The absence of important fundamental statistics also discourages major players from returning to the market, and yesterday's reports on the US economy did not lead to significant changes in the market.
According to the National Federation of Independent Business, the small business optimism index in August 2019 fell by 1.6 points to 103.1 points, indicating a gradual slowdown that is due to trade wars conducted by the White House administration. Several small business managers who expected the economy to grow have revised their attitude. Their share of the total fell by 8% in August.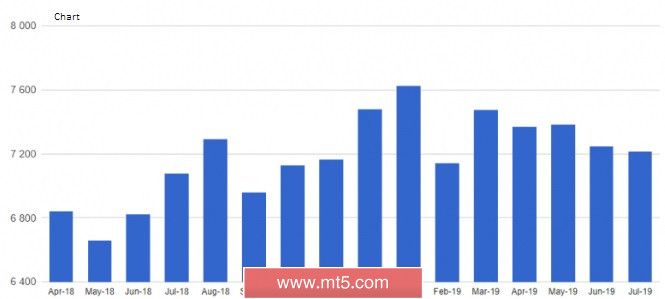 The data on the number of vacancies in the US also did not greatly please investors. Although the indicator is not very important, it complements other indicators, which indicates a slight decrease in the growth rate of the market. According to a report by the US Department of Labor, the number of vacancies in the US in July 2019 decreased by 0.4% compared to the previous month and amounted to 7.22 million compared to July last year, the number of vacancies decreased by 3%.
However, it should be noted that the number of vacancies continues to exceed the number of unemployed Americans, and the number of voluntary layoffs in July rose to 2.4%. This once again confirms the confidence of employees in the labor market, as there are no problems with finding a job.
Retail sales data from The Retail Economist and Goldman Sachs were also of little interest to traders. According to the report, the calculated index for the week from September 1 to 7 decreased by 2.9%, which is not surprising due to the seasonal factor. Compared to the same period in 2018, the US retail sales index increased by 1.1%.
As for the technical picture of the EURUSD pair, it remains unchanged, since market activity before the important decision of the European Central Bank is quite low. Most likely, the bears will try to return to the support of 1.1020, but the demand for the euro will resume after updating the lows around 1.0990 and 1.0950. A break in the range of 1.1055 will increase the demand for the trading instrument and lead to the updating of local maximums in the area of 1.1090 and 1.1120, which was not done yesterday.