On November 12, USD/CAD reached October 7 price levels at 1.2603. From that high it was moving up and now is consolidating below the 21-moving average.
The loonie is trading below the 21 SMA and below the 3/8 murray. The correction is expected to find resistance at 1.2445, the moving average zone, and then it could continue its main bearish movement.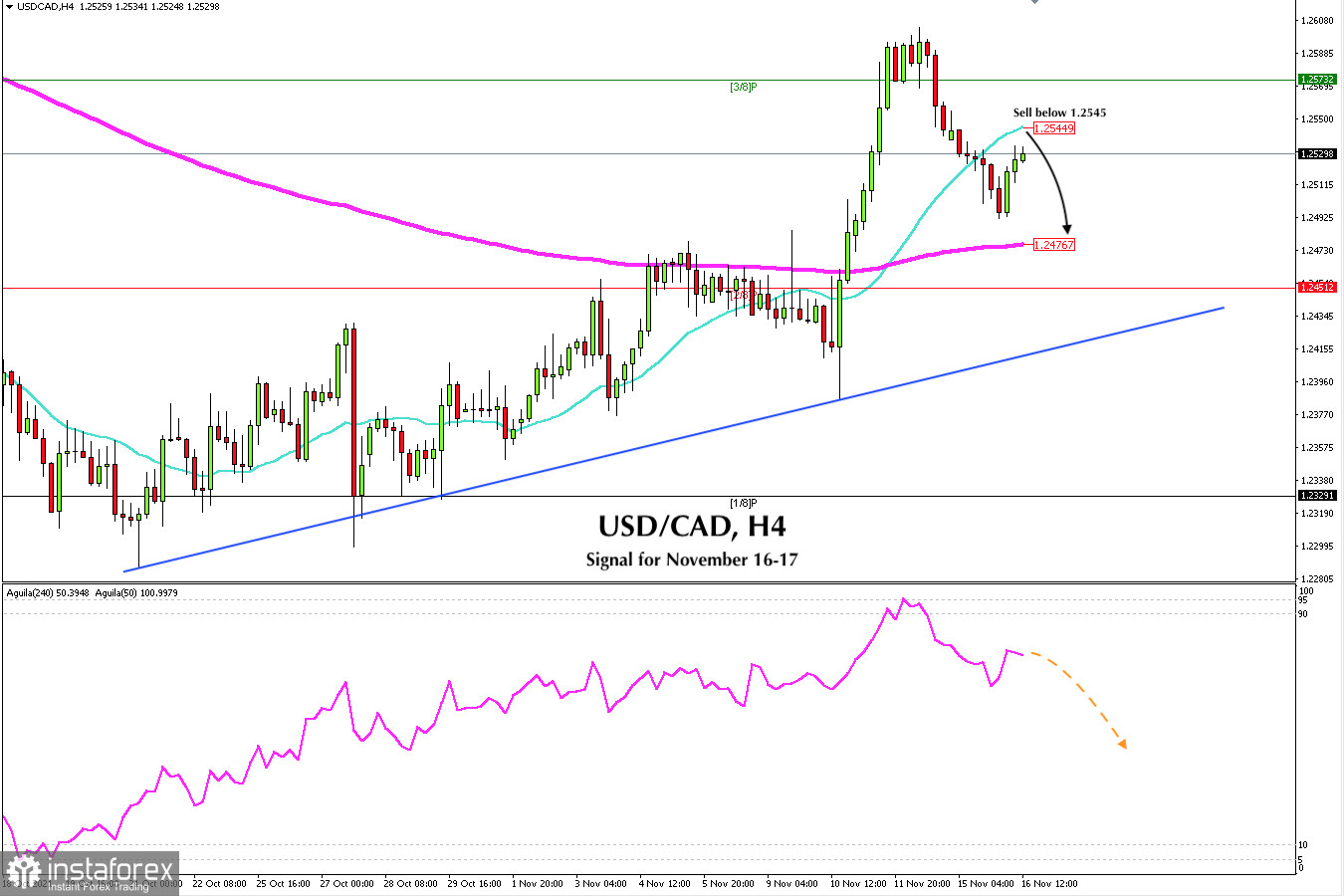 The key point to consider is the area of. 1.2545. If the USD/CAD price approaches this resistance, it will be a good opportunity to continue selling as targets at the 200 EMA are located at 1.2476.
On November 12, the eagle indicator touched the extreme overbought level around 95 points, since then it is giving a bearish signal and could support our bearish outlook and we can sell as long as it remains below 1.2545.
The medium-term outlook continues to be bullish for the Canadian dollar as long as it remains above the uptrend channel formed on October 21 and above the 200 EMA located at 1.2476. It is likely to continue bouncing and could reach 1.28 in the medium term.
The market sentiment report for today, November 16, shows that there is 71.46% of operators who are buying the USD/CAD pair. This data provided a positive sign and we could expect a recovery to 1.2430. Then, the price may again resume its downward movement with the target at 1.2476 (EMA 200) and 1.2430 (uptrend channel).
Support and Resistance Levels for November 16 - 17, 2021
Resistance (3) 1.2596
Resistance (2) 1.2573
Resistance (1) 1.2542
----------------------------
Support (1) 1.2511
Support (2) 1.2487
Support (3) 1.2466
***********************************************************
A trading tip for USD/CAD for November 16 - 17, 2021
Sell below 1.2545 (SMA 21) with take profit at 1.2476 and 1.2430 (uptrend channel) and stop loss above 1.2582.