In the European session, the EUR / USD pair fell to the low of 1.1185. From this level, it is rebounding and is now approaching 4/8 of murray located at 1.1230. The overall trend continues to be bearish.
Trading volumes are low, with US markets closed due to Thanksgiving holiday. The market is expected to make a strong technical correction next week as it is the end of the month.
The minutes of the FOMC meeting in November were published yesterday. Traders found out that the majority of the Committee advocates for increasing the pace at which the Fed will cut its bond purchases. Besides, the FOMC expects an increase in the official funds rate from the second half of 2022.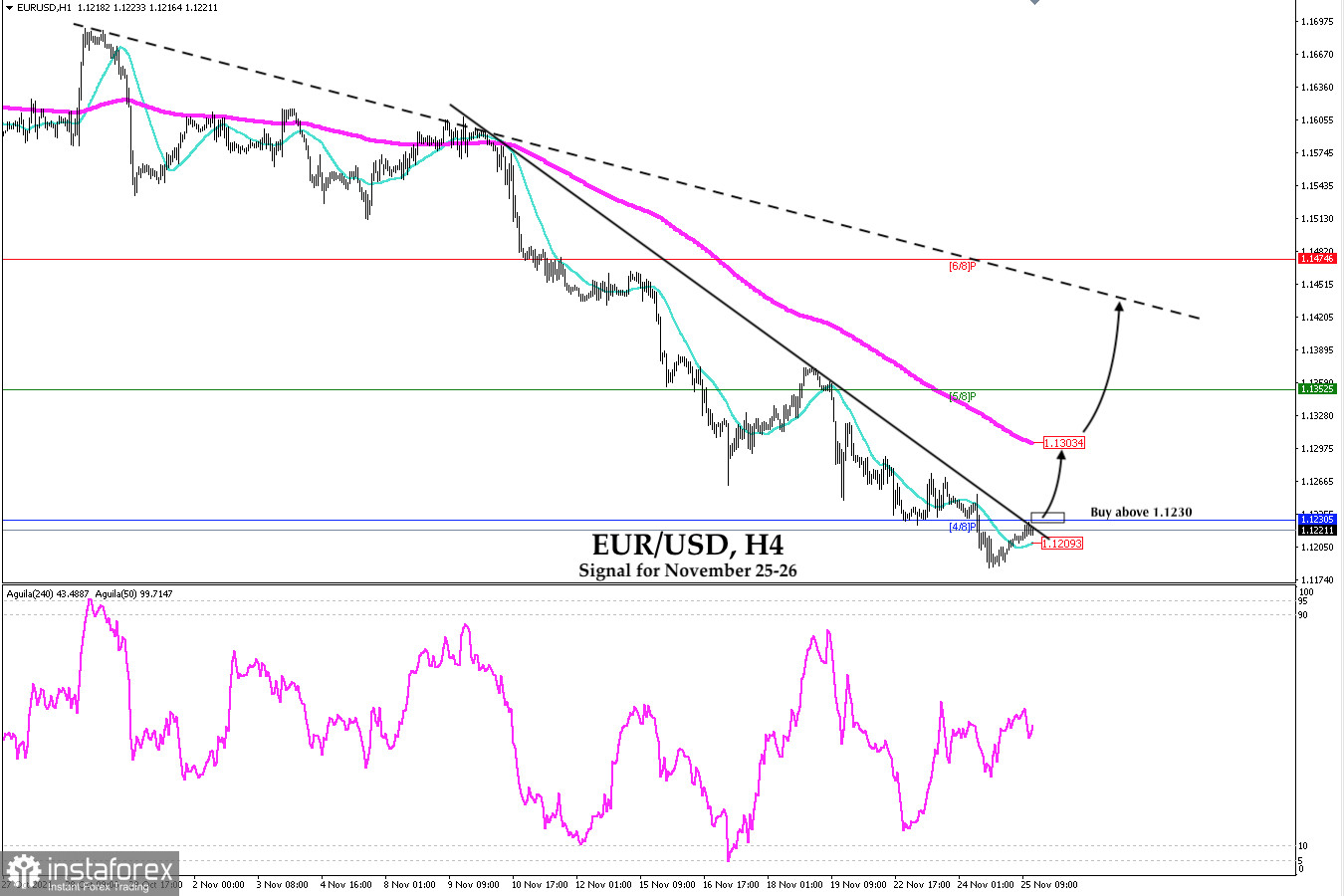 The US Dollar Index (#USDX) is trading around the 8/8 of murray in 96.70. This is an extremely overbought level. We expect that in the next few days, there will be a correction of the dollar which would enable EUR / USD to gain ground.
On the 1-hour chart, the pair is trading below a downtrend channel formed since November 9. A sharp break above this channel and a consolidation above the 4/8 of murray (1.1230) could be the start of a recovery movement and we could expect the euro to rise to the 200 EMA located at 1.1303.
The market sentiment report for today, November 25, shows that there is 71.00% of operators who are buying the EUR / USD pair. This data provided a bullish sign so that we could expect a recovery to 1.1303. Then, the price may again resume its downward movement with the target at 1.1108 (3/8).
Our forecast in the next few hours for the euro is a consolidation above 1.1230. As long as EUR / USD is trading above this zone, we will have an opportunity to buy with the target at 1.1303. If 200 EMA is broken, we could buy with targets at 1.1420 (top of bearish channel).
Support and Resistance Levels for November 25 - 26, 2021
Resistance (3) 1.1306
Resistance (2) 1.1280
Resistance (1) 1.1235
----------------------------
Support (1) 1.1168
Support (2) 1.1142
Support (3) 1.1108
***********************************************************
A trading tip for EUR/USD November 25 - 26, 2021
Buy above 1.1230 (4/8) with take profit at 1.1305 (200 EMA) and 1.1420 (top bearish channel), stop loss below 1.1185.