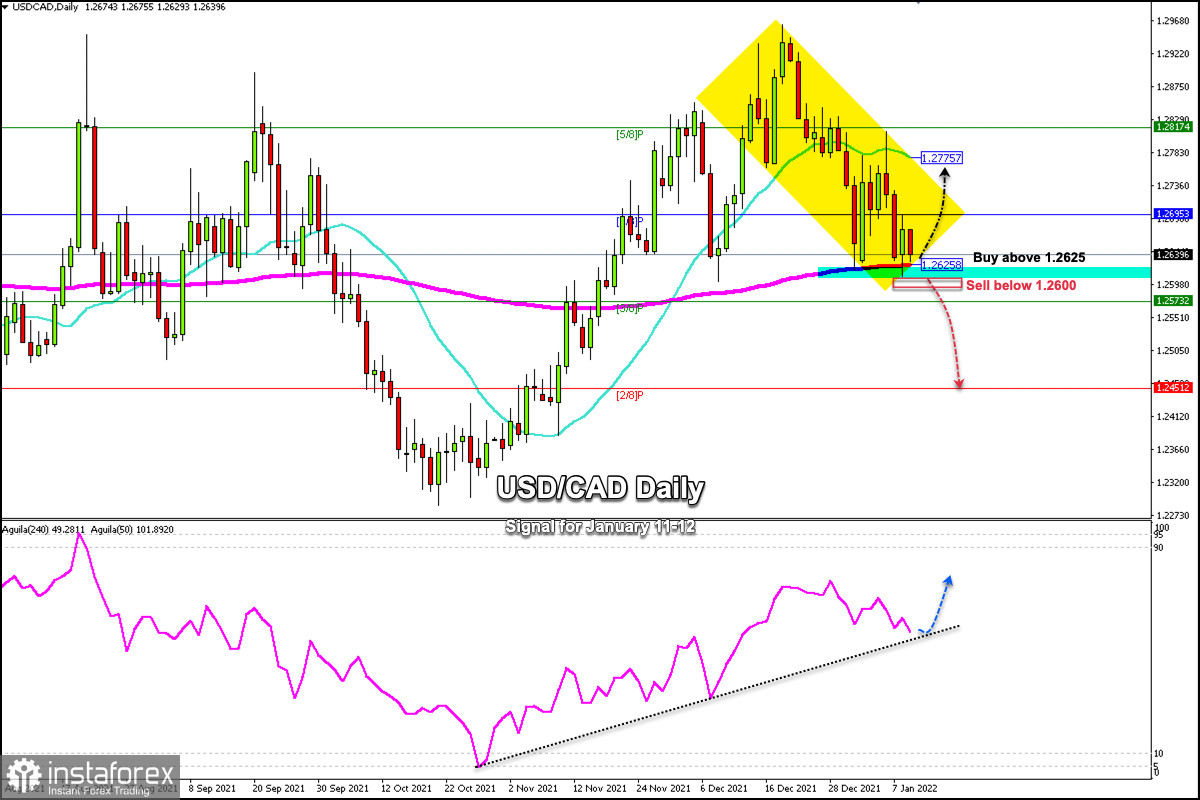 According to the daily chart, USD / CAD is located above the 200 EMA with an accumulation of candles which shows that it is struggling to maintain its uptrend.
On previous occasions, the currency pair has been bouncing around the zone of 1.26 moving towards 1.28.
The loonie is expected to bounce above 1.2625 (200 EMA) with targets towards 1.2695 and up to the 21 SMA at 1.2775.
According to the daily chart, the USD / CAD pair still maintains its upward trend in view of the fact that it is located above the EMA of 200.
The outlook remains on the upside. The tarding instrument is expected to reach the level of 1.28 and up to 1.30 in the next few days only if it is above 1.26.
Since October 22, 2021, the Eagle indicator has been giving a bullish signal. On December 6, the moving average touched the trend channel and the price rebounded, thus giving the CAD momentum to break above the level 1.29.
USD / CAD is likely to be approaching this trend line. So, the currency pair could gain momentum and resume its bullish move with targets at 1.2817 (5/8) and towards the psychological level of 1.30.
On the contrary, a daily close below 1.26 is likely to be the beginning of a bearish scenario and a drop towards 1.2500 and up to 2/8 Murray around 1.2451 would be expected.
Our trading plan is to watch the level of 1.2625. As long as it is trading around this area, we will have opportunities to buy. Our first targets are 1.2695, 1.2775, and 1.2817.
Support and Resistance Levels for January 11 - 12, 2022
Resistance (3) 1.2756
Resistance (2) 1.2695
Resistance (1) 1.2660
----------------------------
Support (1) 1.2571
Support (2) 1,2536
Support (3) 1,2507
***********************************************************
Scenario
Timeframe daily
Recommendation: buy above
Entry Point 1.2625
Take Profit 1.2695 (4/8), 1.2775 (21 SMA)
Stop Loss 1.2590
Murray Levels 1.2695 (4/8) 1.2817 (5/8)
***********************************************************
Alternative scenario
Recommendation: sell if breaks
Entry Point 1.26
Take Profit 1.2500, 1.2451 (2/8)
Stop Loss 1.2639
Murray Levels 1.2573 (3/8), 1.2451 (2/8)
*********************************************************