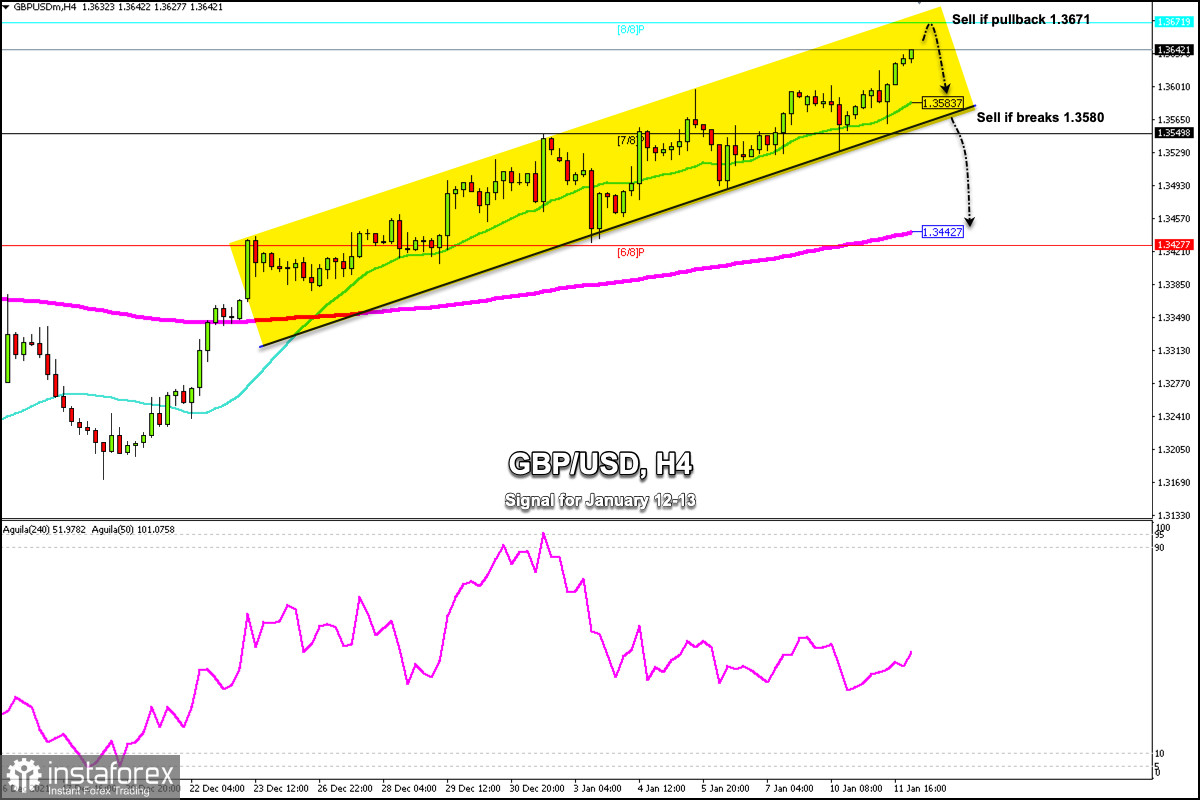 GBP / USD is climbing above the 1.36 level and is approaching the zone of resistance 8/8 Murray at 1.3671. At this time of writing, it is trading at 1.3642. The British pound remains in positive territory against the dollar, moving above the bullish channel.
Since December 20, the British pound has been trading above a trend channel. Now it is showing signs of exhaustion and an overbought signal according to the daily chart.
The resistance zone of 8/8 Murray located at 1.36 71 could be a strong top for the British pound and could provide a sell signal in the next few hours.
The dollar index fell to its lowest level since November after Fed Chairman Jerome Powell said it may take several months to make a decision on reducing the balance of $ 9 trillion.
These comments allowed the British pound to strengthen. Thus, all currency pairs against the dollar had a bullish performance and gold also rebounded to the levels of $1,820 again.
In the American session, the US inflation data will be published, analysts expect it to remain around 0.4%. If the current data is above this level, it could favor the dollar and GBP / USD could make a correction towards the support of the SMA of 21 at 1.3583.
Our trading plan for the next few hours is to expect a pullback to 8/8 Murray around 1.3671. If the pair fails to break this level, it will be a good opportunity to sell with targets towards the SMA of 21 at 1.3580. A break and a close below 1.3580 on the 4-hour chart could continue the bearish move and we would expect a decline towards the EMA 200 located at 1.3442.
Support and Resistance Levels for January 12 - 13, 2022
Resistance (3) 1.3705
Resistance (2) 1.3687
Resistance (1) 1.3660
----------------------------
Support (1) 1.3608
Support (2) 1.3581
Support (3) 1.3528
***********************************************************
Scenario
Timeframe H4
Recommendation: Sell if pullback
Entry Point 1.3671
Take Profit 1.3583 (21 SMA), 1.3549 (7/8), 1.3442 (200 EMA)
Stop Loss 1.3710
Murray Levels 1.3671 (8/8) 1.3549 (7/8) 1.3427 (6/8)
***********************************************************
Alternative scenario
Recommendation: sell if breaks
Entry Point 1.3580
Take Profit 1.3500, 1.3442 (200 EMA)
Stop Loss 1.3625
Murray Levels 1.3427 (6/8)
*********************************************************