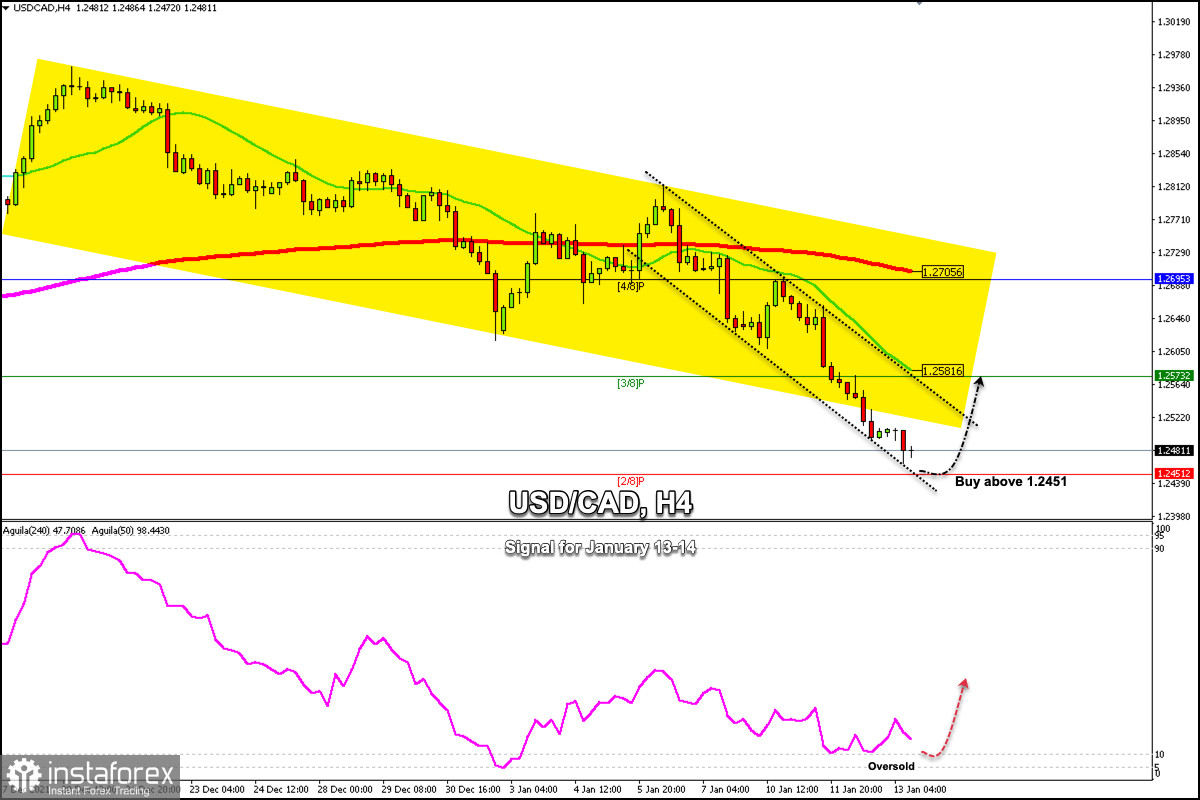 Selling around the US dollar after the published inflation data has allowed the Canadian dollar to strengthen and break the psychological level of 1.25.
The Canadian dollar has reached the prices of November 10, 2021 around 1.2464. It is expected that USD/CAD can find strong support around 2/8 of Murray at 1.2451 in the next few hours.
On the other hand, a rapid rally of oil prices, which reached levels of 82 per barrel, continued to benefit CAD, a currency linked to commodity prices.
The 4-hour chart shows that the loonie is trading within a downtrend channel that began on December 20.
The eagle indicator is giving a sign of exhaustion and is moving into the oversold zone. The support of 1.2451 could give the loonie a technical bounce. Thus, it will be able to return towards the SMA of 21 located at 1.2580.
The loonie is exhausting its bearish strength. Consolidation around 2/8 Murray will be the bottom it needs to stop its bearish movement. As long as it remains above this level, it will be an opportunity to buy with targets at 1.2580 and if the 21 SMA is broken with targets at 1.2706 (200 EMA).
Our trading plan for the next few hours is to wait for a consolidation at 1.2451 and then buy at a technical bounce. The eagle indicator is showing signs of an imminent technical correction which supports our strategy.
Support and Resistance Levels for January 13 - 14, 2022
Resistance (3) 1.2557
Resistance (2) 1.2507
Resistance (1) 1.2473
----------------------------
Support (1) 1.2441
Support (2) 1.2386
Support (3) 1.2329
***********************************************************
Scenario
Timeframe H4
Recommendation: buy above
Entry Point 1.2451
Take Profit 1.2573 (3/8), 1.2695 (4/8).
Stop Loss 1.2410
Murray Levels 1.2451 (2/8) 1.2573 (3/8) 1.2695 (4/8)
***********************************************************