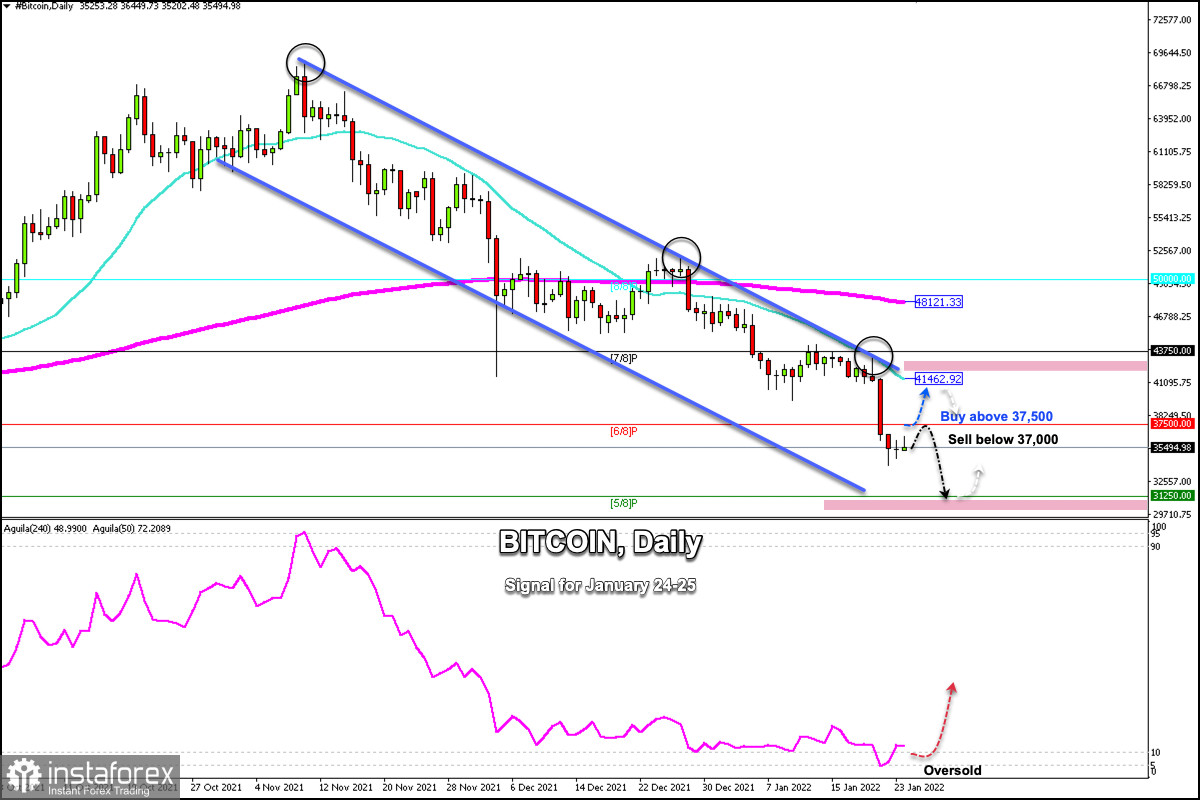 In the last five days, Bitcoin has fallen to 43,424 by almost $10,000 of its value, having shed 18%.
Some traders and investors share the opinion that Bitcoin is the new digital gold, a hedge against inflation and a safe-haven asset.
However, from November 10, 2021, when it was trading for 67,000, until today, Bitcoin lost 50% reaching the level of 33,930. This dynamic casts doubt on Bitcoin that it could act as a refuge asset or a high-risk asset.
Some analysts agree that Bitcoin has been correlated with the sentiment around the stock market. There is evidence of the correlation since the beginning of 2020 between Bitcoin and Nasdaq as well as the SPX 500.
In recent weeks, all the Wall Street indices have had a very strong fall, which has led to the fall of Bitcoin. Investors and analysts expect Bitcoin to be in line with the Fed's plans to tighten financial conditions for the first time in almost two years.
In the medium term, we believe that Bitcoin could reach levels of $20,000, only if the United States increases its interest rate four times and cuts the purchase of bonds.
According to the daily chart, we can see that when Bitcoin broke the psychological level of $40,000. It fell for two consecutive days towards the level of $33,000.
In addition, we can notice the formation of a Doji, this Japanese candle represents indecision in the market. A technical bounce towards 6/8 Murray is likely and could give us a good opportunity to continue selling with targets at 5/8 Murray around $31,250.
On the other hand, if Bitcoin regains strength and recovers part of its losses, we should buy only if it consolidates above 37,500 with targets at the 21 SMA located at 41,462. At this same level, the top of the bearish channel is located.
The eagle indicator has reached levels of extreme overselling which indicates that there could be an imminent rebound in the coming days. Therefore, a consolidation above the key level of $37,500 will be an opportunity to buy or wait for a pullback towards the 31,250 (5/8) to buy on the technical bounce.
Support and Resistance Levels for January 24 - 25, 2022
Resistance (3) 39,318
Resistance (2) 37,500
Resistance (1) 36,038
----------------------------
Support (1) 34,535
Support (2) 33,793
Support (3) 31,664
***********************************************************