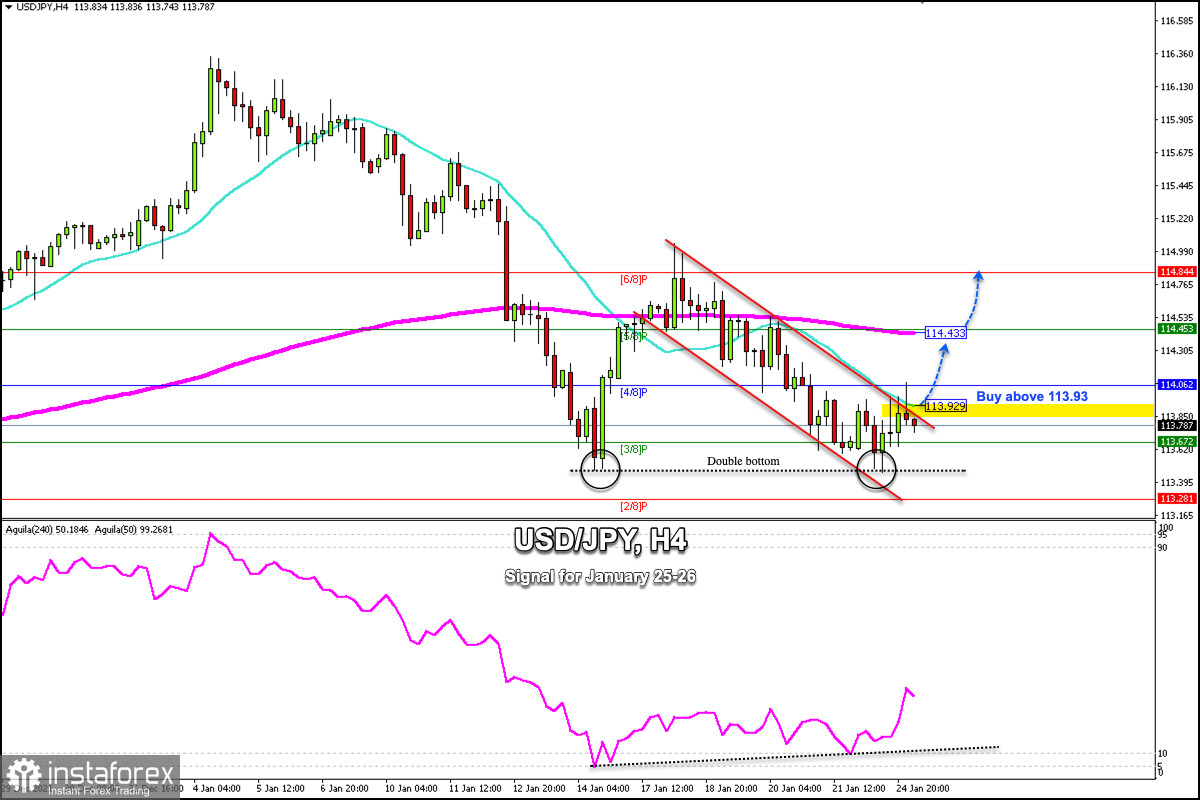 USD/JPY fell to test the price level of the January 14, around 113.46, forming a double bottom pattern.
Currently, the Japanese Yen is moving away from this monthly low and is hovering around the 21 SMA. USD/JPY was trading at 113.78 in the early Asian session.
Today, the Federaral Reserve begins the two-day meeting. This is causing investors to worry about the growing expectations that the US central bank will be aggressive in its monetary tightening on the back of rampant inflation, which reached 7% in December 2021.
The Japanese yen is a safe haven currency. In the last two days, USD/JPY has been falling which means that the yen has been strengthening. The currency pair is likely to continue trading in the range of 114.00 to 113.28 (2/8 Murray).
Due to the uncertainty of the Fed's decision, investors are taking refuge in the yen and gold. This could mean that USD/JPY will be under downward pressure during these days. On the other hand, if the US Fed comes up with hawkish statements that are favorable for the US dollar, we could see a break above the 21 SMA and a consolidation above the zone of 114.00. The short-term target will be the zone of 200 EMA and the 6/8 Murray.
Since January 14, the eagle indicator has been giving a positive signal. Any technical correction is likely to be seen as an opportunity to continue buying USD/JPY. The Bank of Japan is willing to continue easing its monetary policy. It is likely that in the short term the yen will trade again around the level of 115.00 and up to 116.40 (+2/8 Murray).
Our trading plan for the next few hours is buy USD/JPY, only if it breaks and consolidates above 113.90 or above 4/8 Murray with targets at 114.43 and 114.84.
Support and Resistance Levels for January 25 - 26, 2022
Resistance (3) 114.62
Resistance (2) 114.30
Resistance (1) 114.06
----------------------------
Support (1) 113.56
Support (2) 113.24
Support (3) 113.03
***********************************************************
Scenario
Timeframe H4
Recommendation: buy above
Entry Point 113.93
Take Profit 114.43 (200 EMA) 114.84 (6/8)
Stop Loss 113.58
Murray Levels 113.28 (2/8) 113.67 (3/8) 114.06 (4/8) 114.45 (5/8)
***************************************************************************