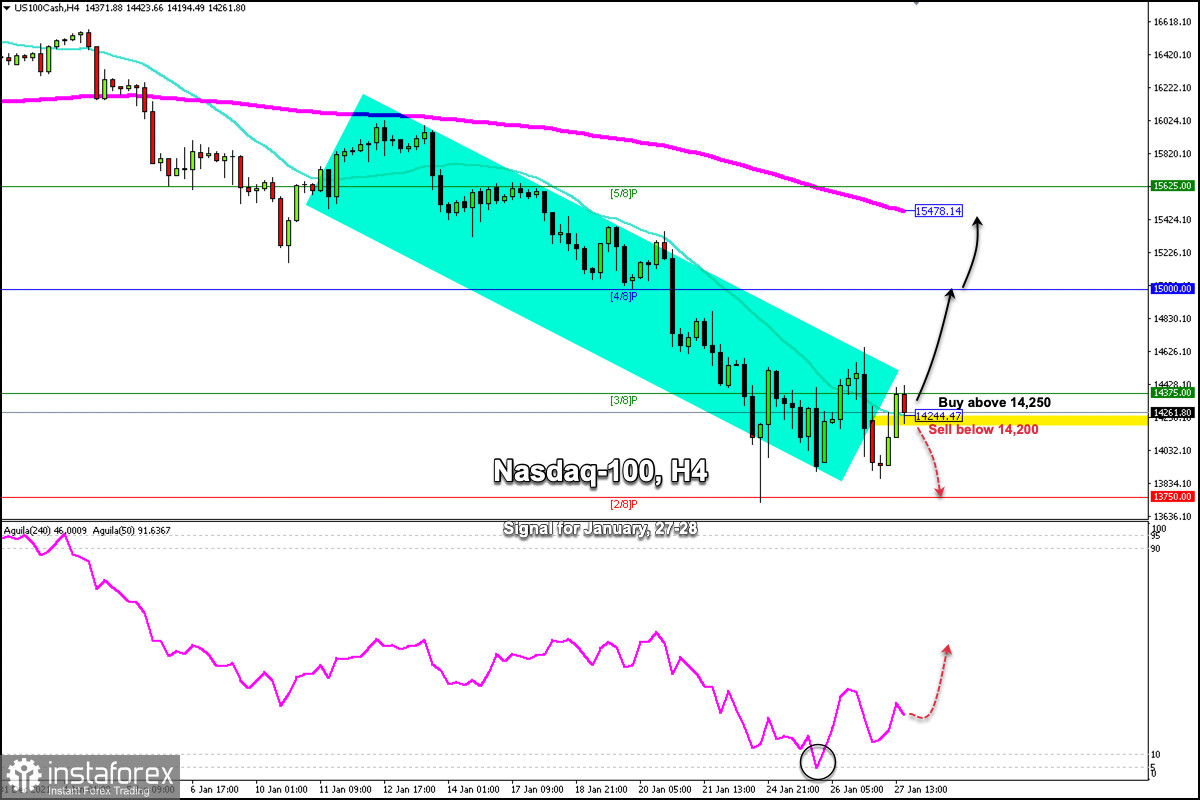 Shares of Microsoft and Tesla are supporting the Nasdaq 100 index (#NDX), which has accumulated a daily gain of 0.81%. It is currently trading above the 21 SMA and above key support of 2/8 Murray at 13,750 with a bullish outlook.
Microsoft Corp. earned 4.3% revenue for the quarter above market estimates, driven in part by its cloud business. Tesla Inc. added 3.5% to its quarterly results.
The overall trend is bearish according to the daily chart. However, the momentum has turned to the upside as it has been trading above the 21 SMA since Jan 25.
As long as the index continues to trade above 14,250, the price is expected to exyend its rise towards the level 4/8 Murray around 15,000 points and finally to the 200 EMA located at 15,478.
Trading below 13,750, where 2/8 Murray is located, will nullify the bullish outlook. The Nasdaq and could resume the downtrend strongly the price falling to the key level 1/8 Murray at 13,125.
Our trading plan for the next few hours is to buy above the 21 SMA located at 14,250 with targets towards 14,375 and to yesterday's high of 14,652 and finally to the psychological level of 15,000 points.
Since January 25, the eagle indicator has been giving a positive signal. The index is likely to trade around the level of 15,000 points (4/8) in the next few hours.
Support and Resistance Levels for January 27 - 28, 2022
Resistance (3) 14,834
Resistance (2) 14,559
Resistance (1) 14,375
----------------------------
Support (1) 14,022
Support (2) 13,867
Support (3) 13,750
***********************************************************
Scenario
Timeframe H4
Recommendation: buy above
Entry Point 14,250
Take Profit 14,375; 14,559; 15,000 (4/8)
Stop Loss 14,180
Murray Levels 15,625 (5/8) 15,000 (4/8) 14,375 (3/8) 13,750 (2/8)
***************************************************************************