GBP/USD
Analysis:
The direction of movement of the major pound sterling is set by the rising wave from September 10. The price has reached the lower limit of the potential reversal zone. On October 21, a counter wave started, which should correct the previous movement.
Forecast:
Today, the price is expected to move in the corridor between the nearest counter zones. After an attempt to put pressure on the resistance zone, the price is expected to reverse and move down.
Potential reversal zones
Resistance:
- 1.3040/1.3070
Support:
- 1.2940/1.2910
Recommendations:
Trading on the pound market today is possible within the intraday. There are no conditions for purchases. It is better to look for sell signals in the resistance zone. It is wiser to reduce the lot. The potential for a downward move is shown by the calculated support.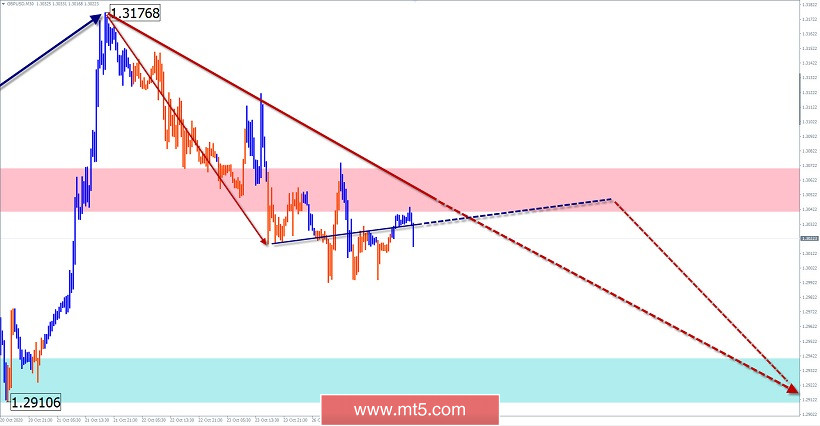 USD/JPY
Analysis:
In the conditions of a flat on a large TF of the Japanese yen, the short-term direction is set by the bullish wave from September 21. In its structure, the middle part (B) has ended. The price rise that began on October 21 has a reversal potential and forms the beginning of the final part (C). An interim pullback has been forming on the chart since the end of last week.
Forecast:
In the next 24 hours, the rate decline, a reversal, and the beginning of price growth are expected to end. When changing the direction, a short-term puncture of the lower support border is not excluded. The probability of an upward breakout of the calculated resistance is low today.
Potential reversal zones
Resistance:
- 105.30/105.60
Support:
- 104.70/104.40
Recommendations:
There are no conditions for selling on the market. In the support area, it is recommended to track the conditions for purchasing the instrument.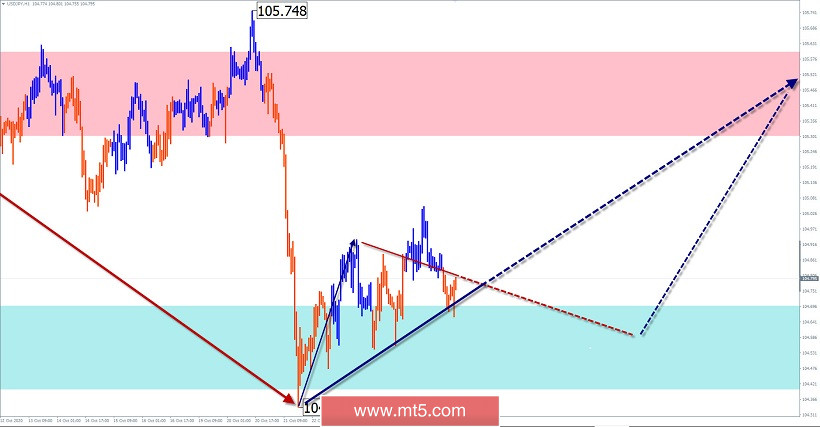 USD/CHF
Analysis:
The last section on the main trend direction of the Swiss franc has been reporting since September 25. This bearish movement has reached the upper limit of a strong large-scale support zone. Since last week, the price has been rolling up.
Forecast:
The upward movement is expected to end today. By the end of the day, the exchange rate is likely to change and re-decline to the support area.
Potential reversal zones
Resistance:
- 0.9090/0.9120
Support:
- 0.9030/0.9000
Recommendations:
The market pairs are possible today in the framework of the sessions of the small lot. The priority is to sell the tool. The downside potential is limited by the support zone.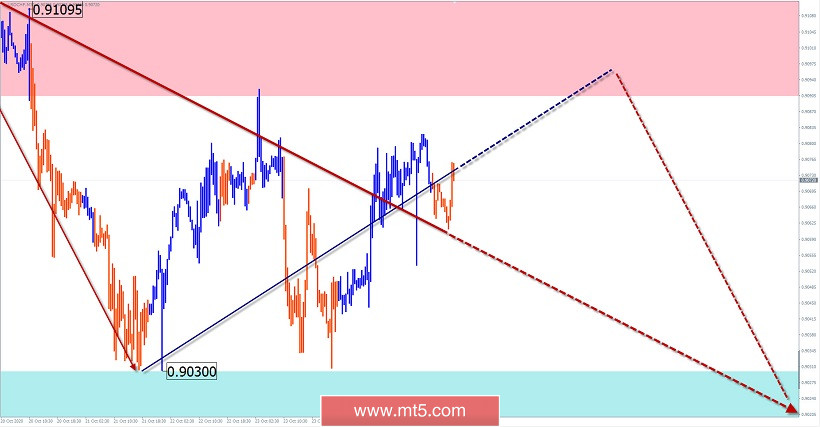 Explanation: In the simplified wave analysis (UVA), waves consist of 3 parts (A-B-C). The last incomplete wave is analyzed. The solid background of the arrows shows the formed structure, and the dotted background shows the expected movements.
Note: The wave algorithm does not take into account the duration of the instrument's movements in time!