EUR / USD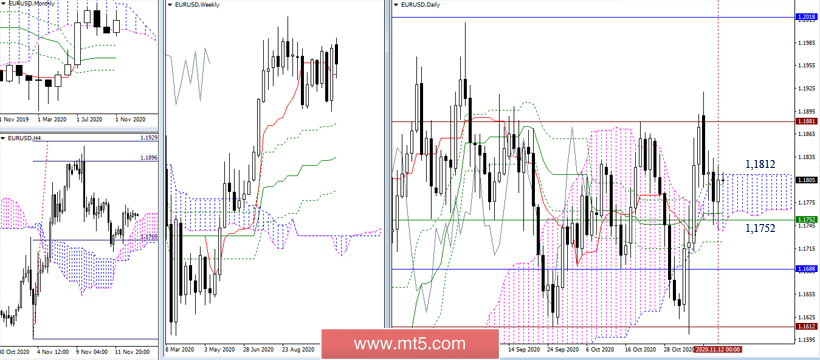 The reached support level of 1.1752 (lower limit of the daily cloud + daily Kijun + weekly Tenkan) prevented the euro to further decline. As a result, working in the daily cloud (1.1752-1.1812), neutral zone and the lack of explicit preferences, remains. The trading week will close today, so the result is important. It is unlikely to be optimistic for the bulls under the current conditions, as the decline was too deep. Nevertheless, further reliable consolidation above the daily cloud (1.1812) will increase the chances of a new active rise. As for the bears, they will now try to break through the support level of 1.1752, leave the monthly cloud (1.1688) and update the lows (1.1602-12).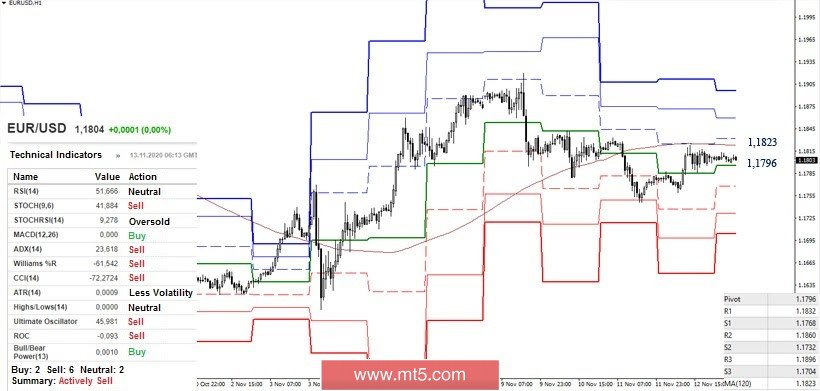 It was observed that there is also a lack of a clear advantage in the smaller time frames. Here, the pair has been working in the correction zone for a long time and is between two key levels: weekly long-term trend (1.1823) and the central pivot level (1.1796). If a consolidation above (1.1823) occurs and the moving average at one-hour TF reverses, we can expect the bullish moods to strengthen. Today, intraday upside goals are located at 1.1832 - 1.1860 - 1.1896. We can assume that bearish traders will attempt to exit the correction zone and continue the trend, if a consolidation below the level of 1.1796 happens. In turn, the support levels are now at 1.1768 - 1.1732 - 1.1704.
GBP / USD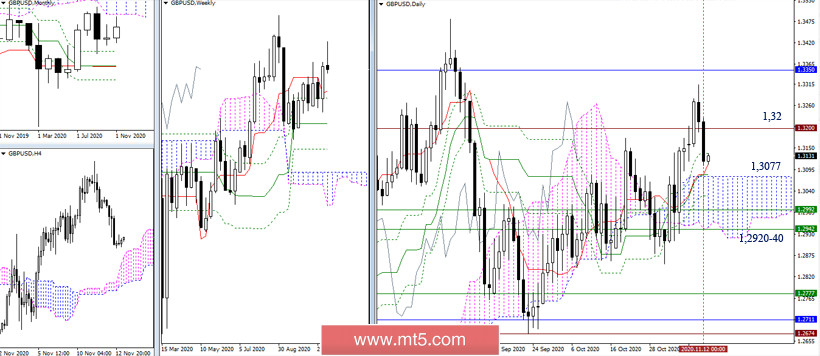 We had a bearish scenario yesterday and we close the week today. The strong bearish character of the weekly candle will encourage the bears' desire to reach more impressive prospects. To do this, they will need to break through the daily cloud and the support levels that strengthen it (1.3077-1.2920-40). The nearest upside benchmark is the historic resistance level of 1.32.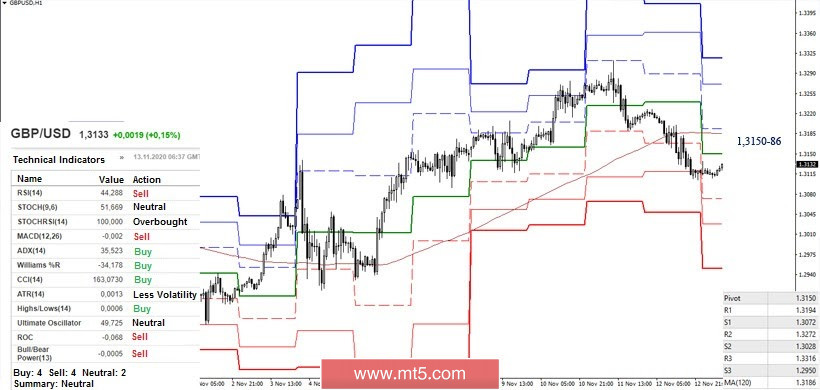 There is currently an upward correction in the smaller time frames. The key hourly levels today are joining forces around 1.3150-86 (central pivot level + weekly long-term trend). So, a consolidation above will make updating the low (1.3312) as the main task. We can also note the resistance levels at R2 (1.3272) and R3 (1.3316) in this area. On the other hand, exiting the current correction zone and restoring the downward trend (1.3105) will return the relevance of support for classic pivot levels 1.3072 - 1.3028 - 1.2950.
Ichimoku Kinko Hyo (9.26.52), Pivot Points (classical), Moving Average (120)