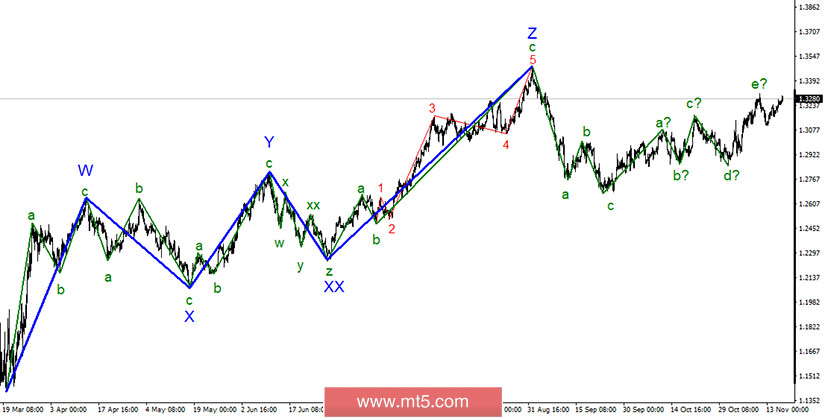 A formation of the long-term uptrend section is still going on, though the wave structure is turning into a more complicated shape. The uptrend section, which began on September 23, now consists of five waves. This section could have been already completed. Thus, a new three-wave downtrend section could be in progress now, though the structure might be even more complicated. In case a wave's high designated as E is broken successfully, this could complicate wave E and even the whole uptrend section.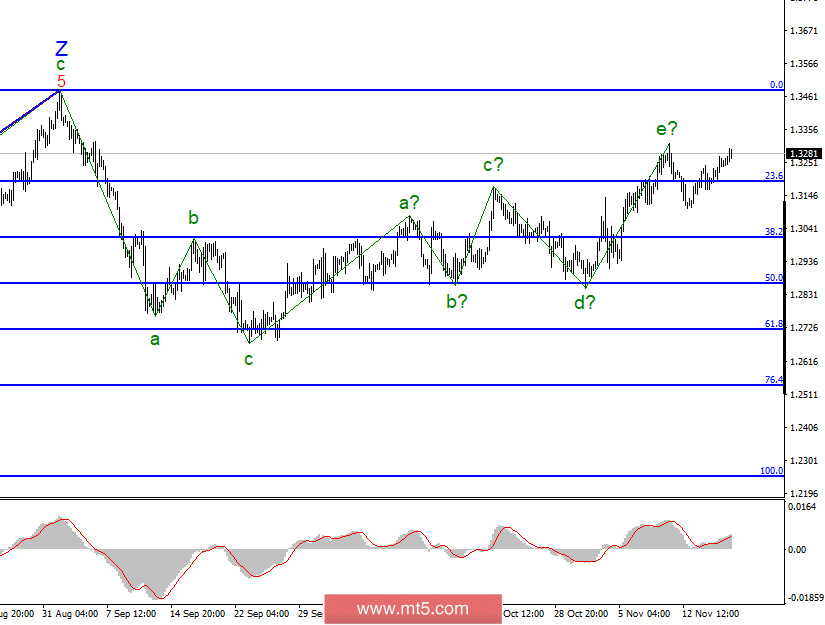 In the chart of a shorter timeframe, we can clearly recognize a-b-c-d waves of the uptrend section. Therefore, this section could be over. If so, the currency pair will extend its decline from the current levels with targets at nearly 1.29 and lower. At the same time, the trend section, which started on September 23, could develop a more elongated shape. Wave E could get more complicated to consist of 5 waves.
At present, the news background remains unusually mixed for the pound sterling. On the one hand, no positive news has been unveiled on the Brexit front. At the same time, the US also does not release any positive news. Nevertheless, the sterling is still enjoying moderate demand on Forex. This is rather weird. Indeed, the wave structure suggests a formation of a downward wave. Still, demand for the pound sterling is high. The only plausible explanation of this phenomenon is that the market pins all hopes that the long-awaited trade deal will be eventually settled between the UK and EU. Interestingly, such excessive optimism could dent GBP strength. Even if London and Brussels settle the trade deal, the pound sterling could not extend its advance following this news. On the contrary, it might reverse downwards because investors has already priced in this event in the GBP quotes.
Besides, Bank of England Governor stated that monetary policy in the UK has to be softened with a view to encouraging long-term investments. This is needed to ensure a rapid economic recovery in the wake of the crisis and in case of a hard Brexit without a trade deal. Citing Andrew Bailey, the British economy needs much more investments now than in recent years. The Governor noted that the economy does not signal lack of investments, but there is evidence that investors are reluctant to provide more funds. The thing is that individuals and companies are worried about economic uncertainty and prefer to save their financial cushions for a rainy day. Besides, Andrew Bailey said that retirement funds invest modest funds in liquid assets, so this approach should be changed at the government level.
Conclusions and trading tips
GBP/USD has resumed a formation of the uptrend section. However, its last wave could have been already completed. To sum up, at present I would recommend considering short deals on GBP/USD at every downward signal of the MACD indicator. If the 23.6% fibo is broken successfully, this will confirm that the currency pair is likely to decline with targets at near 1.3010 and 1.2864 that are 38.2% and 50.0% fibo. I would advise you to wait for this breakout before opening short deals on GBP/USD. A successful breakout of the wave E peak will lead to a more complicated wave structure.