EUR / USD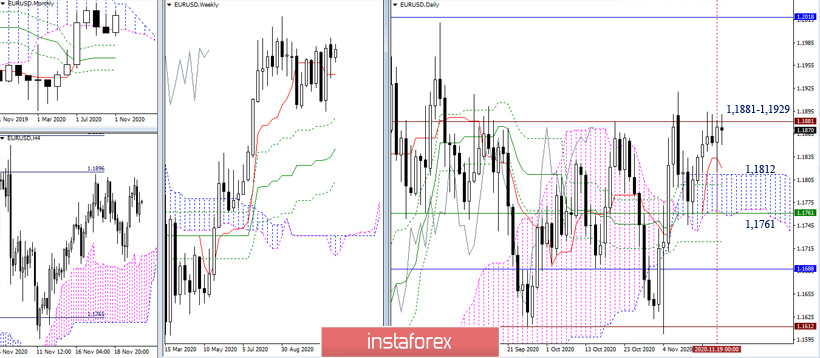 The end of the next working week is approaching. There were a lot of thinking and expectations for the euro. The range of motion is small, the result is still lacking for both the players and the opponent. The main resistance zone retains its location and value at 1.1881 - 1.1929 (historical level + 100% target development for the breakout of the H4 cloud). Consolidation above will allow traders to hope for an increase in the recovery of the weekly and monthly upward trend (1.2011) and testing the upper border of the monthly Ichimoku cloud (1.2018). Failure of the bulls will bring the pair back to the daily cloud, reinforced by the weekly short-term trend (1.1761). And if the bears can gain a foothold below, then it will be their turn to consider new perspectives and make plans.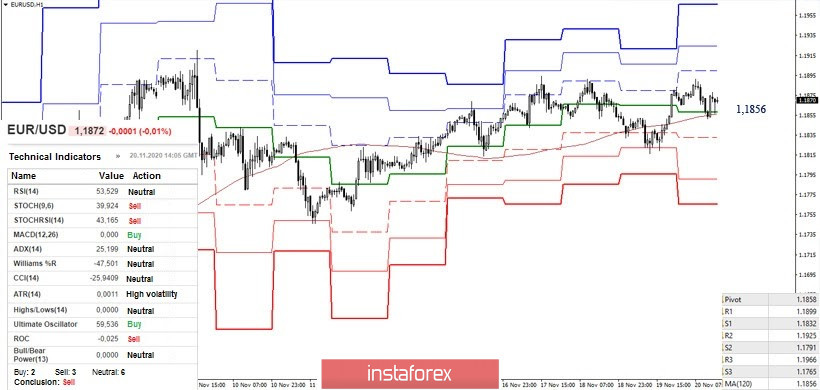 During the week, the bearish traders tried several times to seize the key support of the lower halves - the weekly long-term trend. And now the euro is testing this line. The weekly long-term trend has joined forces with the central pivot level of the day and is at 1.1856. Consolidation below and reversal of moving averages will give preference to the lower halves to the bearish players, but as long as the weekly long-term trend retains support for bullish interests, they will continue to fight for the resistance zone of the higher halves 1.1881-1.1929. On H1, there are classic Pivot levels 1.1899 (R1) and 1.1925 (R2).
GBP / USD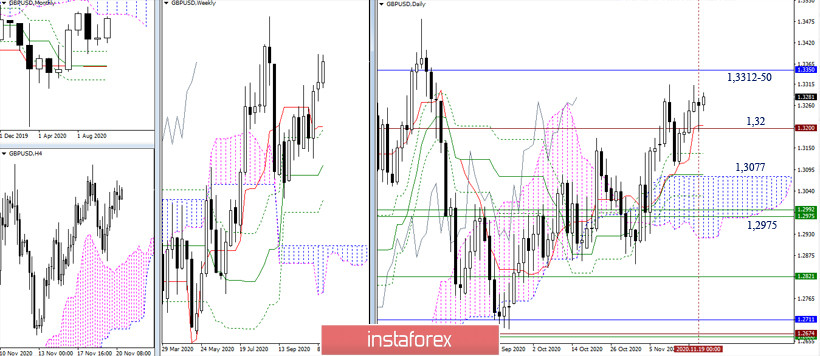 During the current workweek, the pound was busy consolidating above the important historic milestone of 1.32. The bulls manage to keep the situation above 1.32 the other day, so they will most likely close the week higher. The weakening factor now is the fact that the bulls failed to update the maximum of the previous one this week (1.3312). At the same time, the resistance of the lower border of the monthly cloud (1.3350) will also complicate the task for the bulls in this area. If the upward traders now retain their positions, then next week they will have to solve the issues of overcoming 1.3312-50. In case of loss of 1.32, the pair will face a daily cloud, reinforced by weekly levels (1.3077 - 1.2975).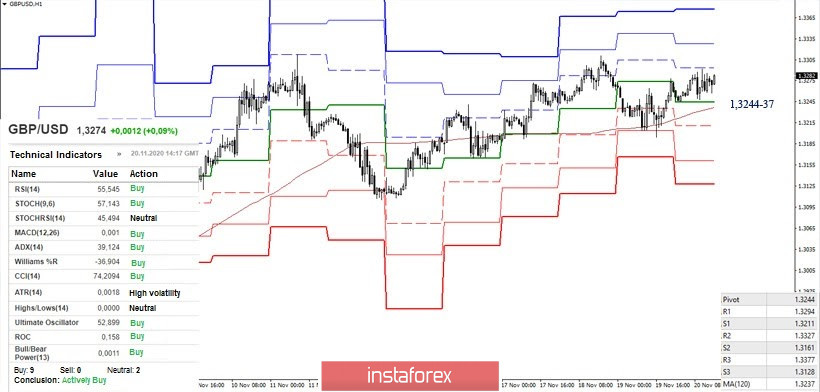 At the moment, the promoters retain their advantage in the lower halves. The resistances of the classic Pivot levels are now located at 1.3294 - 1.3327 - 1.3377. The situation will be changed by the loss of key supports of the lower halves, which united in the area of 1.3244-37 (central pivot level + weekly long-term trend). In order for the bears to achieve a reliable superiority of forces, they need to take possession of the MA and reverse it.
Ichimoku Kinko Hyo (9.26.52), Pivot Points (Classic), Moving Average (120)