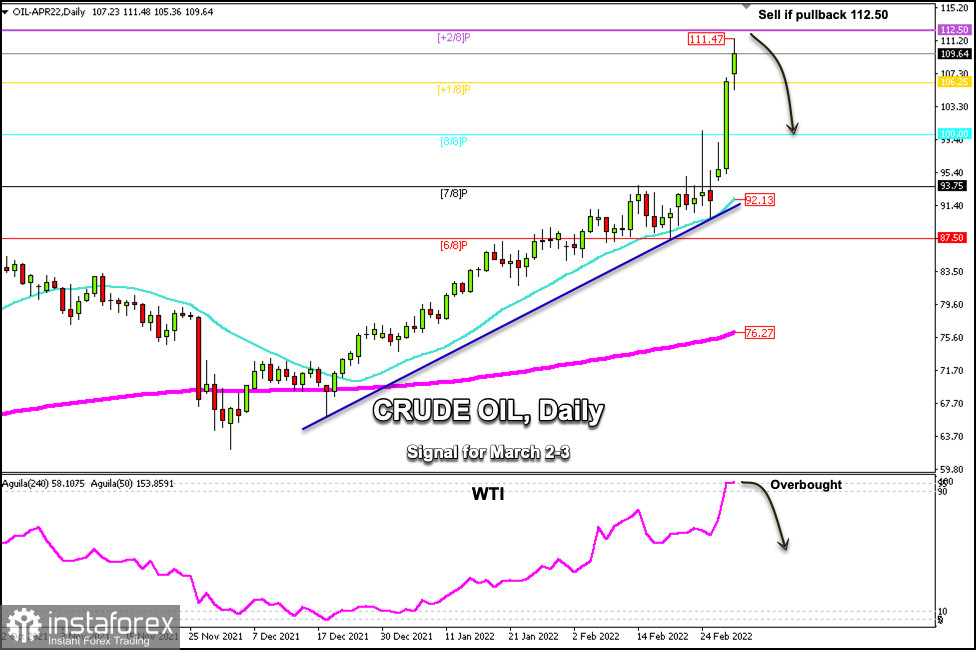 Oil continues the rally reaching new highs in 9 years. Both WTI and Brent are up more than 8% so far this day. The barrel of WTI operates in the area of $109.64, with high volatility.
US oil prices spiked as high as $111.47 before making a small technical correction. However, there is a likelihood that early in the US session it will hit resistance of +2/8 Murray at 112.50.
There are several factors that have strongly boosted the price of crude oil. One of which is the refusal of consumers to buy from Russian producers. Also the uncertainty of the market makes investors nervous. It is likely that the price of crude oil will continue to rise in the coming days.
This strong increase in crude oil has led several countries here to announce new releases of their strategic reserves, but this could be insufficient according to analysts. This is what the market seems to be showing. It also poses a great challenge to central banks in their struggle to control inflation.
The short-term outlook for oil could be determined by the development of the war scenarios between Russia and NATO, which are constantly being threatened and that makes investors nervous.
The United States and other major oil-consuming nations are considering releasing 70 million barrels of oil from their emergency reserves as crude prices rise.
According to the daily chart, WTI has reached extremely overbought levels, hovering around the resistance zone of Murray's +2/8. A pullback to this level will be an opportunity to sell into the correction with targets towards 8/8 Murray around $100.00
If the price of crude oil breaks the 112.50 area, we should avoid selling as the price could hit new records and is likely to get closer to the level 115.00. As long as WTI remains trading below 112.50, it will be a good opportunity to sell in the next few days.
The eagle indicator is giving an extreme signal around 95-points which will be a good opportunity to sell WTI in the next few hours with targets at 106.25 and 100.00.
Support and Resistance Levels for March 02- 03, 2022
Resistance (3) 114.24
Resistance (2) 112.50
Resistance (1) 110.12
----------------------------
Support (1) 108.02
Support (2) 106.25
Support (3) 105.31
***********************************************************
Scenario
Timeframe Daily
Recommendation: sell below
Entry Point 112.50
Take Profit 106.25,100.00
Stop Loss 113.40
Murray Levels 112.50(+2/8), 106.25(+1/8) 100.00(8/8), 93.75(7/8)
***************************************************************************