GBP/USD
Analysis:
The large scale of the British pound chart since March this year shows an upward momentum. Its last section counts down from September 10. The price reached intermediate resistance. The hidden correction is not completed in the wave structure.
Forecast:
Today, the flat is expected to continue in the corridor between the opposite zones. After an attempt to pressure the resistance zone, a reversal and decline are likely up to the support level. After that, the ascent will continue.
Potential reversal zones
Resistance:
- 1.3380/1.3410
Support:
- 1.3280/1.3250
Recommendations:
Selling the British pound today is risky. It is recommended to look for signals to enter long positions at the end of the upcoming decline.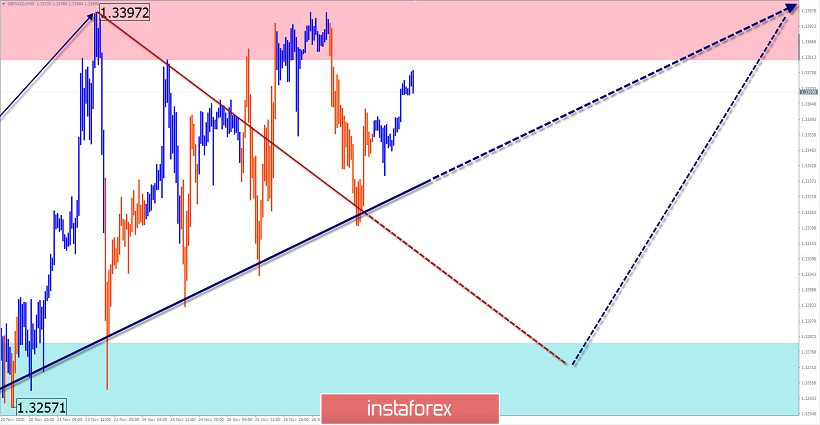 USD/JPY
Analysis:
Incomplete wave construction of the Japanese yen is bearish, from November 9. The first two parts (A-B) are formed in the structure. On November 23, the final part (C) started. The price reached the upper limit of the potential small-scale reversal zone. Before the price goes down further, it is necessary to work out an intermediate pullback.
Forecast:
Today, you can expect the pair to move in the price corridor between the nearest zones. After pressure on the support zone, a reversal and rise to the resistance area is expected. You can expect a return to the main exchange rate at the end of the day or at the beginning of the next trading week.
Potential reversal zones
Resistance:
- 104.30/104.60
Support:
- 103.80/103.50
Recommendations:
Today, trading is only possible within the intraday. Purchases can be unprofitable. It is recommended to refrain from entering the market during the upcoming price growth and look for sell signals at the end of it.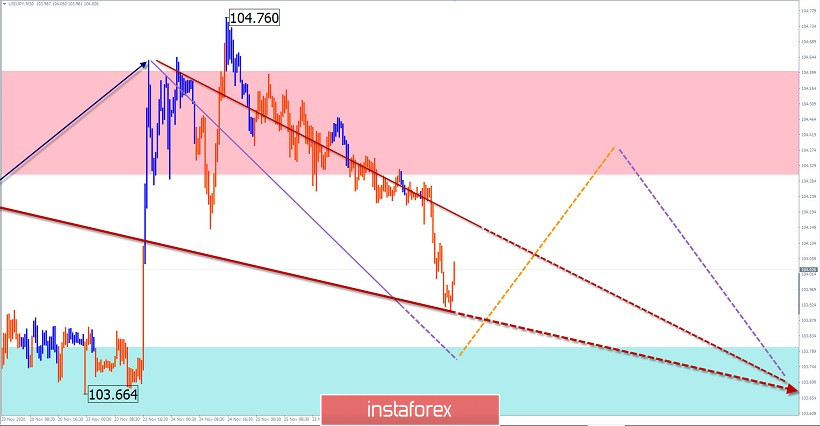 USD/CHF
Analysis:
On the hourly chart of the Swiss franc, the incomplete rising wave from November 6 sets the dominant rate. In the last 3 weeks, the price is adjusted. This phase of the price movement is close to completion.
Forecast:
A mostly downward trend is expected in the next 24 hours. The boundaries of the probable daily course are indicated by calculated zones. A short-term price increase is possible in the European session. A return to the main exchange rate is likely at the end of the day.
Potential reversal zones
Resistance:
- 0.9090/0.9120
Support:
- 0.9030/0.9000
Recommendations:
Trading on the pair's market today is possible within the intra-session style, with a reduced lot. Purchases are not recommended. Sell signals should be looked for in the area of the calculated resistance.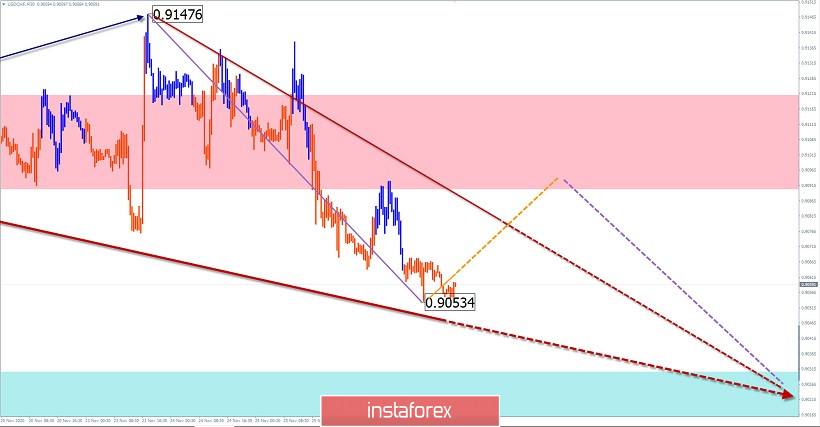 Explanation: In the simplified wave analysis (UVA), waves consist of 3 parts (A-B-C). The last incomplete wave is analyzed. The solid background of the arrows shows the formed structure, and the dotted one shows the expected movements.
Note: The wave algorithm does not take into account the duration of the instrument's movements in time!