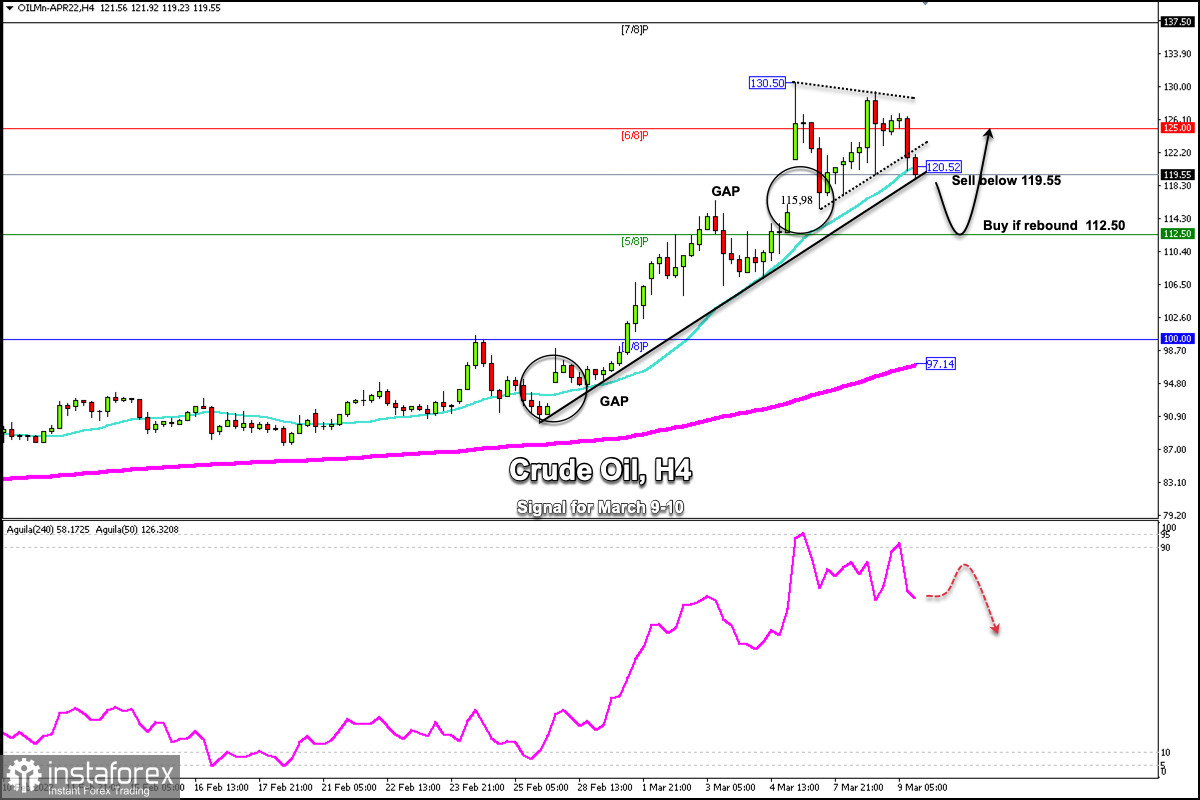 Crude oil price reached a high of 130.50 above Murray's 6/8. We can observe the formation of a symmetrical triangle which was broken in the European session.
At the fundamental level, in the effort to mitigate the impact of the ban on Russian oil imports, US State Department senior adviser Amos Hochstein said earlier Wednesday that the United States and other nations would consider releasing more barrels of oil from reserves, if necessary.
On the other hand, OPEC Secretary General Mohammed Barkindo said there is no physical shortage of oil at the moment, in an interview to Bloomberg TV.
On a technical level, early in the American session, crude oil is trading below the 21 SMA located at 120.52. It is approaching the uptrend channel formed since February 25.
A sharp break below 119.55 could accelerate the move down towards 5/8 Murray located at 112.50 and towards the psychological level of $100.00.
The short-term outlook for oil could be determined by the development of the war scenarios between Russia and NATO, which are constantly being threatened and that makes investors nervous.
Any correction in crude oil will be seen as an opportunity to continue buying in the short term. So, in the coming hours it is likely that crude oil will attempt to cover the gap it left on March 4 at 115.98.
Therefore, at current price levels as long as WTI remains below the 21 SMA located at 120.52, there will be an opportunity to continue selling with targets at 112.50.
On the other hand, a technical bounce in the 5/8 Murray zone around 112.50 will be a buying opportunity with targets at 120.50, 125.00 (6/8) and could hit the high 130.50.