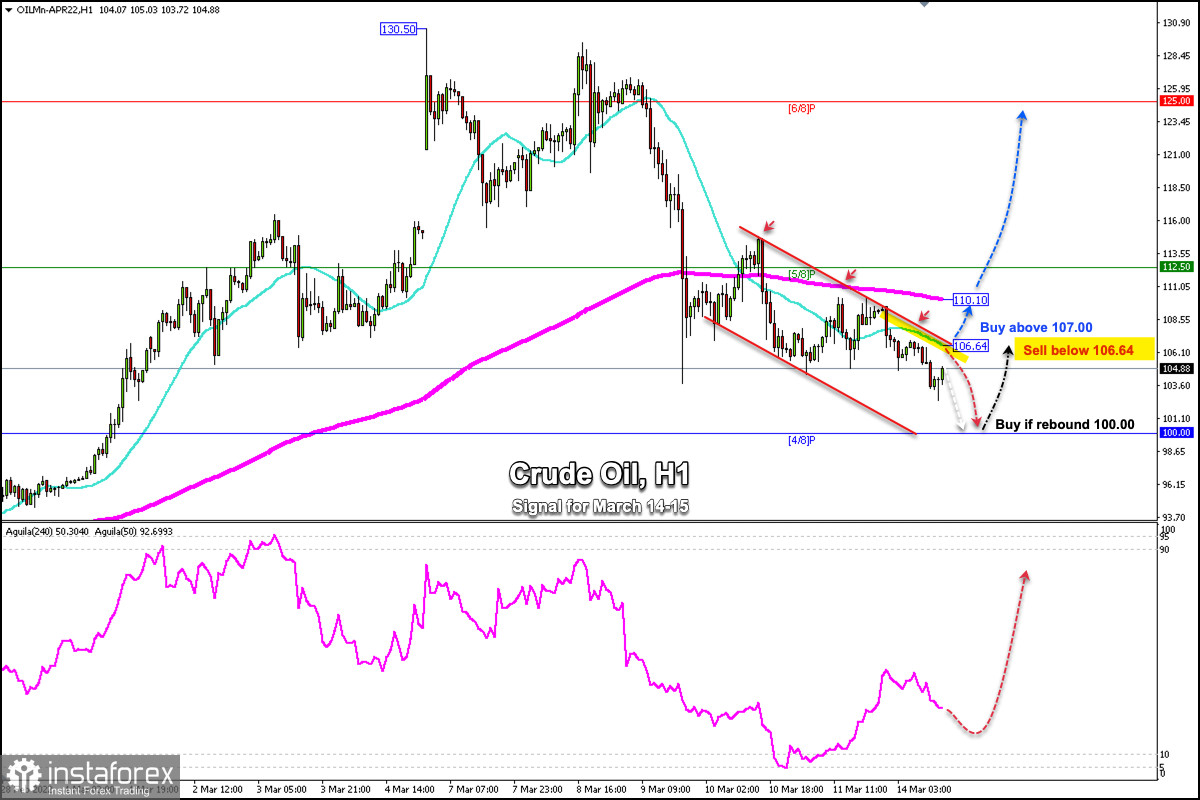 The West Texas Intermediate (WTI - Crude Oil) is falling and trading inside a downtrend channel on the 1-hour chart.
The volatility in oil prices remains firm, in step with the news on the war front. The positive expectations about a peaceful solution based on the talks are being a negative factor that is weakening the strength of crude oil.
However, WTI could resume its upward trend in the coming days and reach 130.50 and even 165.00 per barrel.
One factor that could support the rise in crude oil is the risk of a new outbreak of a new war on a large scale.
Another factor may be that Iran launched a missile over the weekend, complicating the current negotiations. By and large, the uncertainty of the market that will maintain the uptrend of crude oil prices.
At the opening of the American session, WTI crude oil is trading at 104.88. A strong downtrend is clearly visible and WTI is likely to reach the psychological level of $100.00 (4/8 Murray) in the next few hours.
On the other hand, a pullback towards the 21 SMA located at 106.64 will give us a good entry to sell with targets at 100.00.
On the contrary, a sharp break of the downtrend channel and a close on the 1-hour chart above 107.00 could suggest a bullish move. This bullish momentum could find a barrier at the 200 EMA located at 110.10. Above this level, there will be no obstacles and the price could again reach 6/8 Murray at 125.00 and the high of 130.50.
Our trading plan for the next few hours is to sell crude oil below 106.64 with targets at 104.00 and 100.00. A technical bounce around $100.00 will give us a good opportunity to buy with targets at 107.00 (21 SMA) and 110.00 (200 EMA). The eagle indicator is giving a positive signal.