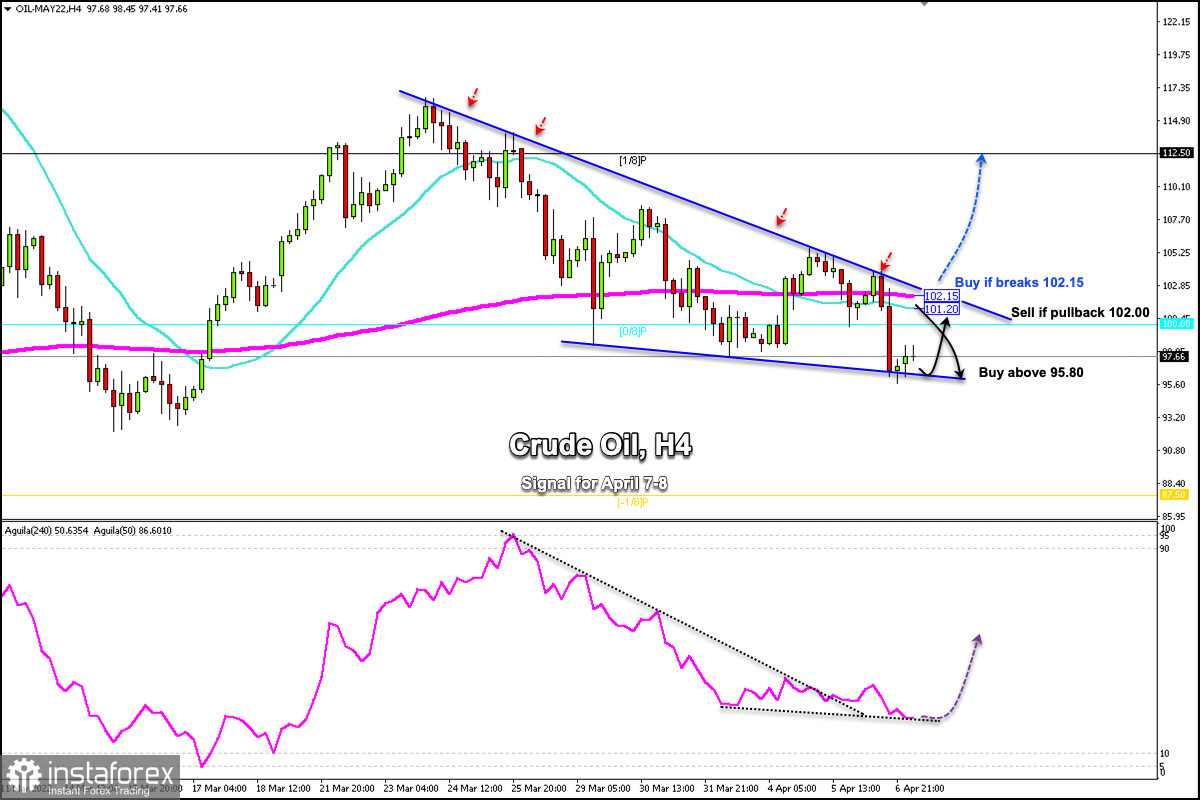 Crude Oil (WTI_#CL) is trading inside a falling wedge technical pattern. Yesterday in the American session, crude fell below the 200 and below the 21 SMA reaching the support of this pattern around 95.60.
We can see a small technical bounce on the 4-hour chart. If it consolidates above the low of 95.74 in the next few hours, we could expect a correction towards the 21 SMA located at 101.20 or towards the 200 EMA around 102.15.
Since March 21, crude has been under downward pressure and has tested several times and failed to break it.
Yesterday, WTI failed to break out of the downtrend channel and made a sharp drop. If the current bounce pushes the price to the area 102.15 and it fails to break it again, then this is an opportunity to sell.
Members of the International Energy Agency (EIA) will release 240 million barrels of crude oil in a bid to cool markets, which is equivalent to about two days of global demand.
On the other hand, if Russia begins to decrease its oil supply globally, the impact could be dramatic and permanent. This deficit combined with low recorded inventories could push oil prices to record highs.
According to the 4-hour chart, we can see that crude oil is in a key support zone which could be a sign of weakness and bearish continuation. However, if WTI consolidates above 95.80, it could be a sign of a technical bounce and the price could reach the area 102.15 in the next few hours.
If in the next hours or days, crude oil breaks the downtrend channel and consolidates above 102.15, we could expect a change in trend and an acceleration of the upward movement so that the price could reach the area 112.50 (1/8 Murray).