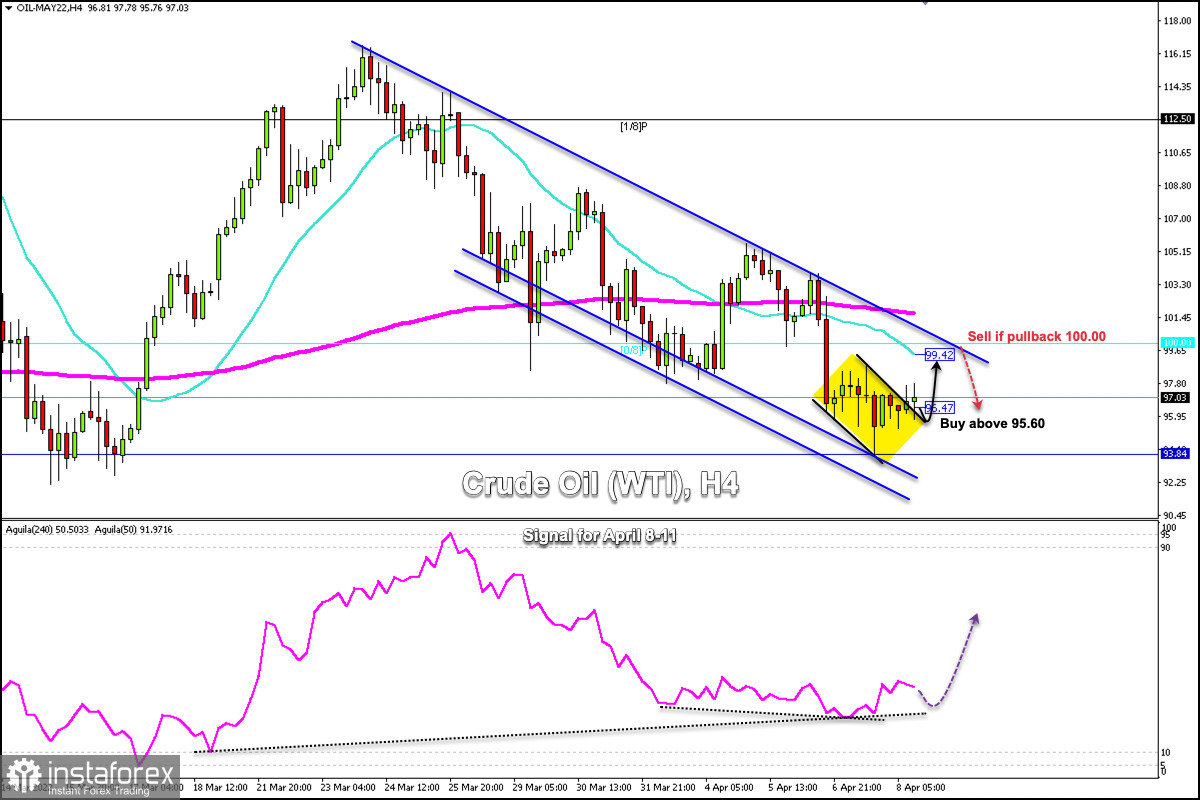 Barrel of WTI is trading at 97.03 with a slight technical rebound. Yesterday the price of Crude oil fell to $93.82, the lowest level since March 17.
The drop in the price of crude oil (WTI-#CL) had occurred after the announcement by several nations about the use of their strategic reserves, in response to the rise in prices.
Stocks are trading in oversold territory. With equity markets under pressure as a result of the announcement of monetary policy by FED, it could affect the strength of crude as there is some correlation.
On the contrary, if the equity market in the American session recovers and makes a technical bounce, it could give some stability to crude oil and it could consolidate around 95.60 and could reach the psychological level of $100.00.
According to the 4-hour chart, we can see that crude oil is consolidating and breaking a downtrend channel. The price could pull back to the support of this channel. We could have an opportunity to buy around 95.60.
Our trading plan is to wait for crude oil to retrace towards the 95.60 area where the 61.8% Fibonacci level is located. We could have an opportunity to buy with targets at 99.42 (21 SMA).
In case crude oil reaches the level of 99.42 (21 SMA) or 0/8 Murray around the psychological level of $100, we will have an opportunity to sell. Given that a downtrend channel is located at this level, as long as the price cannot break, we can sell with targets at 96.47 and 93.84.
The eagle indicator is consolidating which is a positive sign for crude oil. Hence, a recovery could occur in the next few days. So, WTI can resume its overall uptrend.