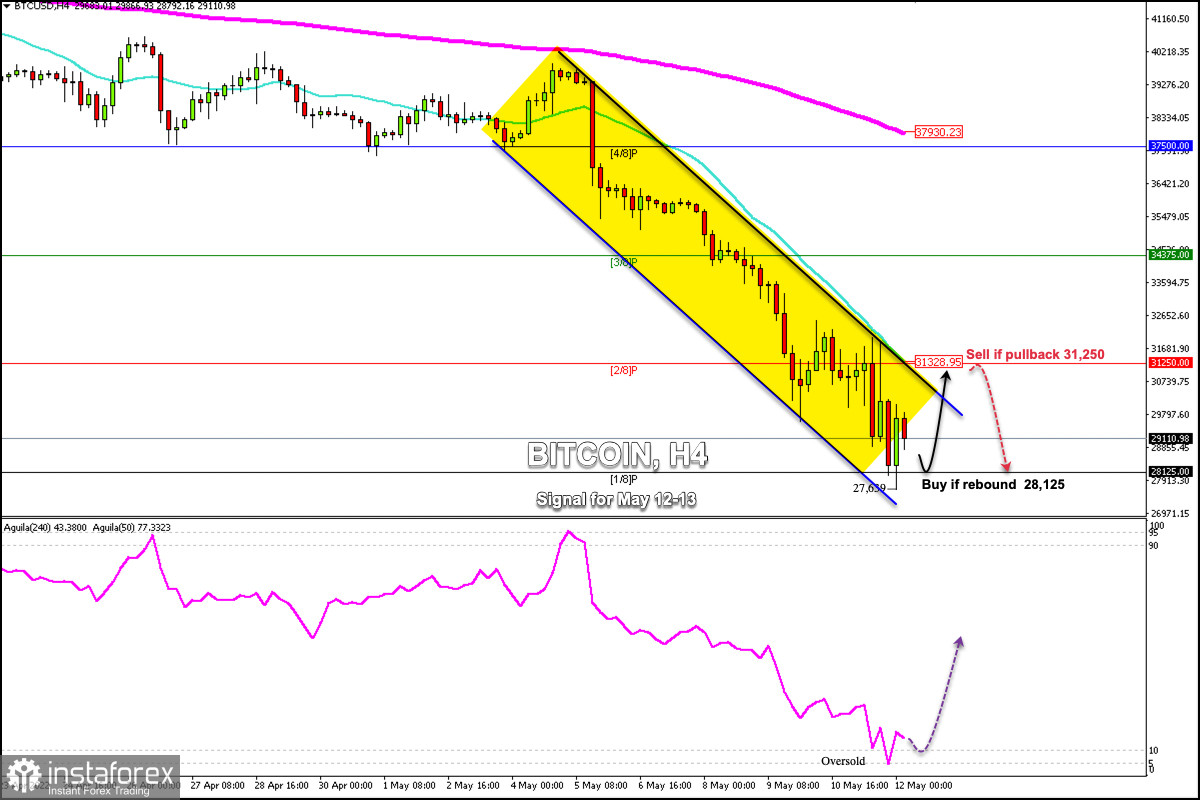 In the Asian session, Bitcoin (BTC/USD) reached a low of 27,639. This price level was last seen on Dec 27, 2020.
In the 4-hour chart, we can see that since the beginning of May, Bitcoin has been moving with a bearish bias below the 200 EMA.
On May 9, Bitcoin broke the psychological level of 30,000. This was a negative sign as the market is now under strong selling pressure and is likely to continue trading below 31,250 in the coming days.
The bears intensified the pressure in the cryptocurrency market on May 11, but the bulls are defending the critical level of 28,125 with all their might. This is an important level to watch out for because if it breaks down, the selling could intensify. The BTC/USD pair could drop towards 25,000 (0/8 Murray) and then to 21,875 (-1/8 Murray).
The eagle indicator on the 4-hour chart reached the 5-point level that represents oversold conditions. A technical rebound above 1/8 Murray around 28,125 is expected in the next few hours and the price could reach 2/8 Murray at 31,250.
Because Bitcoin is showing signs of exhaustion and extreme overselling, we expect a rally that could give relief from the strong bearish pressure only if it consolidates above 28,000.
If the price rises from the current level, (29,110), it could reach the 21 SMA at 31,328. This is an important level to watch because if the price turns down, the bears will again try to push the pair down below 28,125.
Alternatively, if the bulls push the price above the 21 SMA, the pair could rally towards the 200 EMA at 37,930. This will mean a 30% recovery from the current low.
Our trading plan is to buy Bitcoin above 1/8 Murray around 28,125. Our first target will be the 21 SMA at 31,328. In case of breaking this level, we recommend buying with targets at 3/8 of Murray located at 34,375.