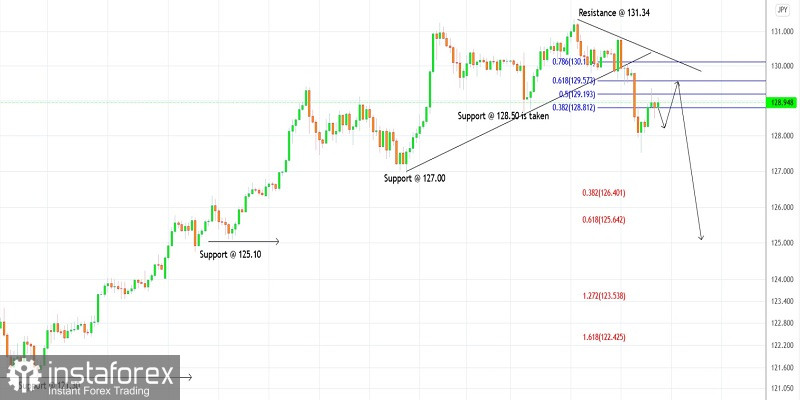 Technical outlook:
USDJPY might have carved a formidable top around 131.34 this week as prices are slipping to initial support seen at 128.50. The currency pair has broken below its immediate trend line support and also taken out the initial price at 128.50 carving a clear downward cycle. Prices have pulled back to 129.00 as expected and could reach 129.50-60 soon.
USDJPY has carved a meaningful lower degree downswing between the 130.80 and 127.51 levels in the past two trading sessions. Ideally, the pair is retracing the above drop. The potential remains for a test of 129.50 before resuming lower again. The currency pair is facing an immediate price resistance at 130.80 and pullbacks should remain capped lower.
Also, note that the Fibonacci 0.618 retracement of the recent drop is passing through 129.57 levels. The high probability remains for a turn lower if prices manage to reach there as bears remain poised to be back in control thereafter. The downside target potential in the near term is towards 125.60 and 122.40 levels respectively.
Trading plan:
Potential drop through 122.50 against 132.00
Good luck!