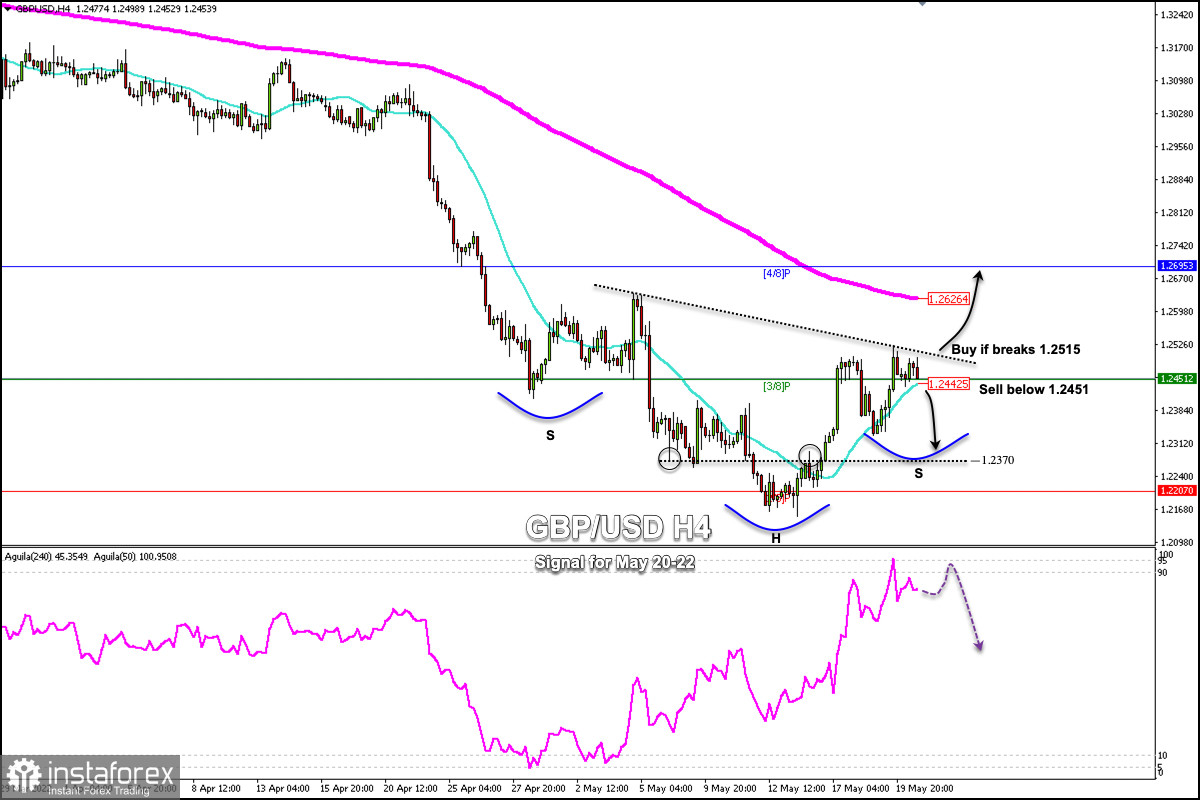 Early in the American session, the GBP/USD pair reached the resistance level of 1.2498. Since then, it is pulling back and is now testing the support 3/8 Murray at around 1.2451.
Supported by the selling pressure around the US dollar, GBP/USD has extended its weekly rally and reached the psychological level of 1.2500 for the first time in two weeks.
From the low of 1.2154, the British pound managed to recover. Now the outlook remains bullish in the short term, but it may be difficult to attract buyers if the pair fails to break above the barrier of 1.2515.
It is prudent to wait for a strong bullish move if GBP/USD consolidates above 1.2515 on the daily chart. The GBP/USD pair could then rally to the area of 1.2626 (200 EMA) and could even hit 4/8 Murray at 1.2695.
Conversely, a sharp break below the 21 SMA at 1.2451 could accelerate the bearish move and we could expect the price to continue falling towards the 1.2370 support.
On May 19, the eagle indicator entered the extremely overbought zone. It is likely that in the next few hours there will be a technical correction to resume the upward movement.
In case of failure to break the level of 1.2515, the pound could fall and reach the support of 1.2370 in the next few days.
Since April 27, we can see the formation of the head & shoulders pattern on the 4-hour chart. This technical pattern could be confirmed, if the pound trades above the psychological level of 1.2515 with an ultimate target around 1.2939 (5/8 Murray).
Our trading plan for the next few hours is to sell below 1.2451 or in case of a pullback towards 1.2500, it will be an opportunity to sell. Above 1.2515 we should avoid selling and the pound is likely to resume its upward move.