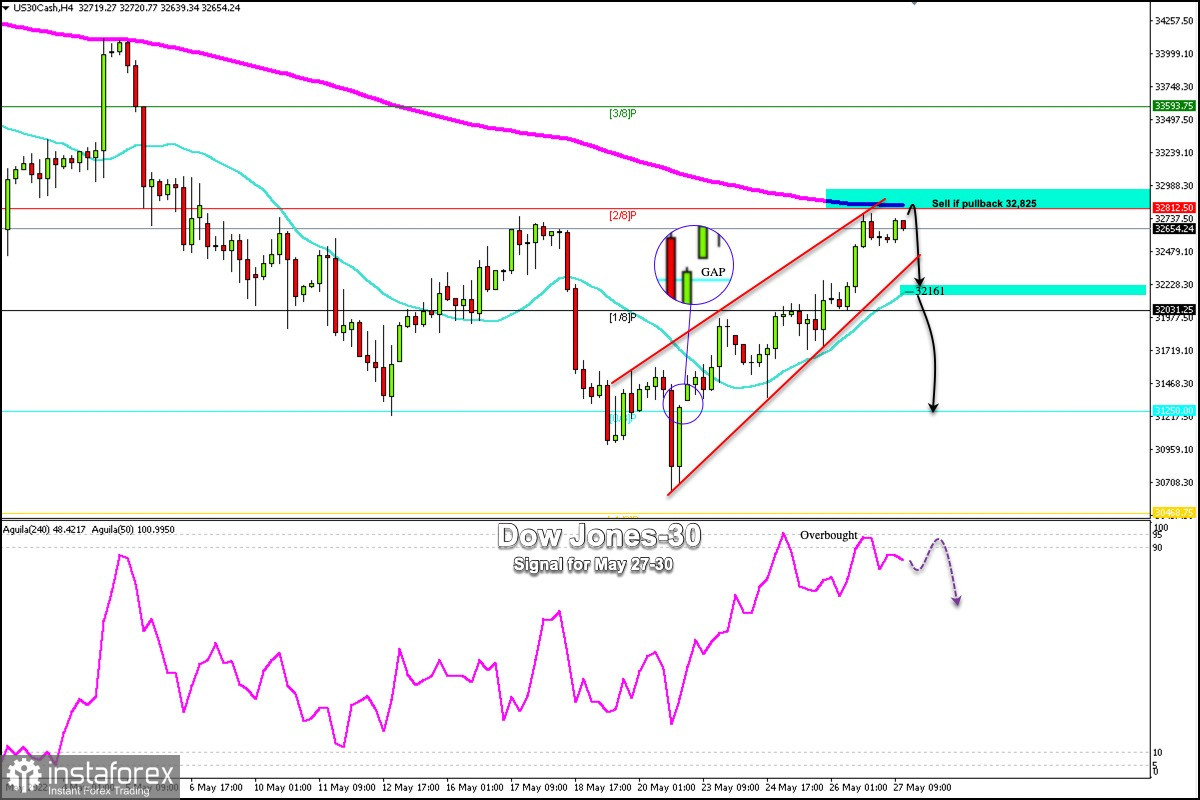 Dow Jones-30 Industrial Index (#INDU) is trading at around 32,654 with a strong uptrend but is facing strong resistance at 2/8 Murray and the 200 EMA converging at 32,812. Since the low of 30,635, the DJ30 has recovered over 2000 points and this will be the first weekly gain in eight weeks.
Given that there was a strong recovery in the Dow Jones-30, it is likely that it is reaching an overbought zone. According to the eagle indicator, it is likely that as long as it continues to trade below the 200 EMA, a technical correction could happen in the coming days.
Since May 17, the market sentiment changed which made investors turn to risk assets such as stock indices and currencies. However, the DJ30 market would be facing the overbought zone. So, a technical correction could follow next week.
The main trend according to the daily chart remains down. As long as the index settles below 33,593 (3/8 Murray), it is likely to resume its downtrend in the short term.
On the other hand, according to the 4-hour chart, we can see that the DJ30 has been trading with a bullish bias since May 20. The index could accelerate its uptrend if it consolidates and closes above 32,825 (2/8 Murray - 200 EMA) on the daily chart.
In case of failure to break and consolidate through 2/8 Murray, it is likely to resume its downtrend and could drop towards the 21 SMA at 32,161 and could even hit 0/8 Murray at 31,250.
Our trading plan for the next few hours is to wait for the DJ30 to test the zone 2/8 Murray or the 200 EMA to sell, with targets at the bottom of the uptrend channel or the 21 SMA around 32,161.
Additionally, if the bearish force prevails and the price consolidates below 32,161, the index could accelerate its fall to cover the GAP left on May 23 at around 32,250.