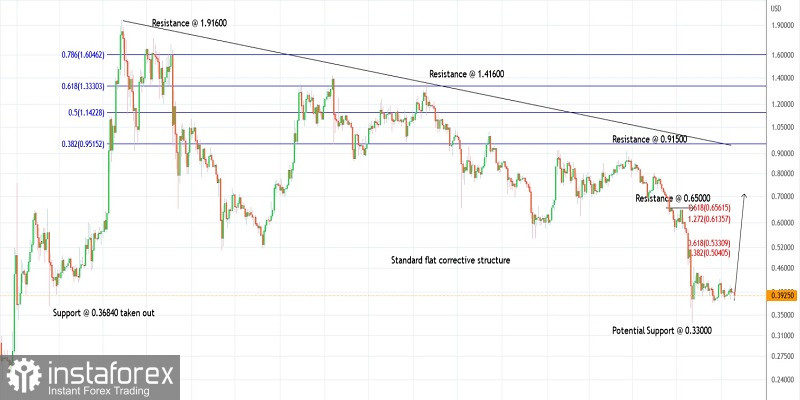 Technical outlook:
Ripple has dropped through the $0.39000 mark on the intraday chart on Friday, testing the lower range of consolidation. The crypto has been drifting sideways after rallying through the $0.46300 mark on May 13, 2022. Bulls will be poised to hold prices above the recent swing lows registered around the $0.33300 level to keep the structure constructive.
Ripple had raised through an all-time high of $1.91600 before reversing lower. The drop between $1.91600 through $0.33300 looks like a complex corrective structure. Furthermore, Ripple has taken out support around 0.36840 as well. Ideally, the price should resume its rally from here and push through the $0.65500 mark in the near term.
Ripple faces resistance around $0.65000, followed by $0.91500, while support is seen around the $0.33000 mark. A push above $0.65000 and subsequently $0.91500 will encourage further advancement through the $1.41600 levels. Traders will remain poised to hold long positions for now with risk below the $0.33000 level.
Trading plan:
Potential rally through $0.65000 against $0.33000
Good luck!