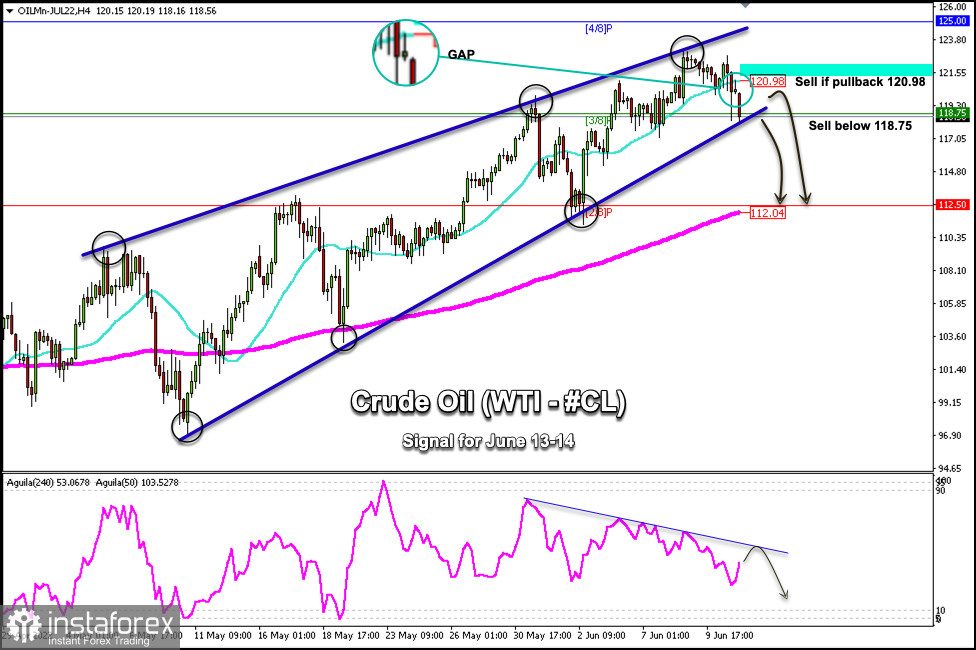 Early in the Asian session, WTI was trading around 118.75, having opened trading with a bearish GAP. Currently, it is testing the uptrend channel formed since May 11.
Investors are concerned about the recent negative news of Covid-19 cases in China. It remains a big threat to oil demand in the country. It could directly affect oil prices. As a result, it may lead to a drop in demand. The closures from March to May had a chilling effect on regional oil consumption. It could be a bearish factor, weighening on oil prices seen last week.
On June 8, Crude Oil (WTI-CL) reached a high of 123.15, this level was last seen on March 09. A technical correction is likely in the next few days only after a confirmation of a sharp break below the uptrend channel and below 3/8 Murray.
In the coming hours, a pullback towards the 21 SMA located at 120.98 is likely to occur in order to cover the GAP that it left at the close of Friday around 120.42.
Crude oil is currently trading below the 21-moving average. The outlook could change to negative for crude oil and it could fall in the coming days towards the 200 EMA located at 112.04 or around 2/8 Murray at 112.50.
On the upside, crude could resume its uptrend again if it consolidates and makes a daily close above 121.50. The key is to wait for a consolidation above the 21 SMA. If this scenario comes true, oil could again reach the high of 123.15 and 4/8 Murray at 125.00.
Since May 30, the eagle indicator has been giving a negative signal. This divergence means that crude oil could have a significant correction in the coming days. It could again reach the 112.04 area, giving the bulls an opportunity to resume the uptrend.
Our trading plan for the next few hours is to sell crude if there is a pullback towards 120.98 with targets at 118.75 and 112.04.
On the other hand, a sharp break of the rising wedge could be a clear signal to sell below 118.75 with targets at 115.00 and 112.50. The eagle indicator is oscillating within a downtrend channel. Any technical bounce in oil is likely to be seen as an opportunity to continue selling only if it trades below 121.00.