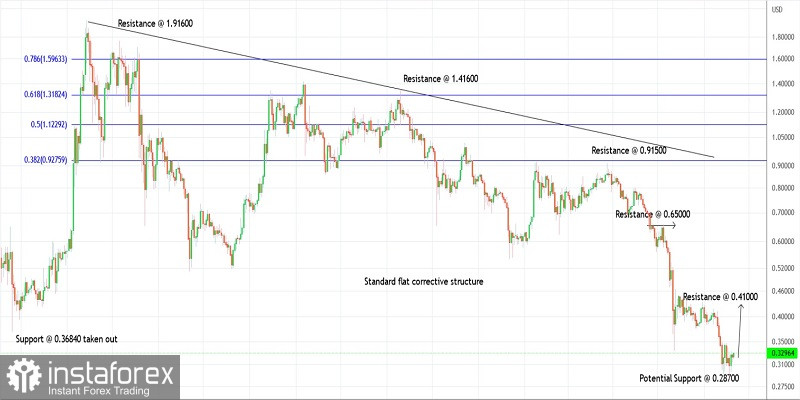 Technical outlook:
Ripple grew above $0.33000 intraday on Tuesday in line with our projections. The crypto is seen to be trading close to the day's high at this point in writing and is expected to push through $0.41000 going forward. Bulls are now poised to hold prices above $0.28700 to keep the structure intact.
Ripple seems to have completed/terminated a larger-degree corrective drop from around $0.28700. The crypto has been dropping since the $1.91600 highs registered in April 2021 and might have completed a potential standard flat correction. If the above structure holds well, prices will resume the rally from current levels and will take out immediate price resistance at $0.41000.
A price break above $0.41000 will confirm that bulls are back in control and that the potential trend might have reversed. Potential targets for Ripple are around $0.65000, followed by $0.92700 and up to $1.31800. Traders might be preparing to initiate fresh long positions from current levels with risk below $0.28700.
Trading plan:
Potential rally through $0.4100 and $0.65000 against $0.28000
Good luck!