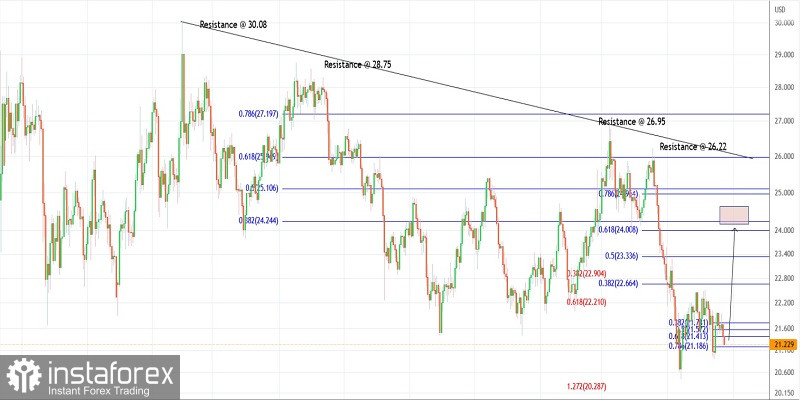 Technical outlook:
Silver prices dropped through the $21.20 intraday lows on Thursday, after having tested levels close to the $22.00 high earlier this week. The structure still remains constructive till the metal stays above $20.90. It is seen to be trading at the day's low and is expected to resume its rally through the $24.00-20 mark going forward.
Silver prices are producing a counter-trend rally, which began from the $20.45 low earlier. The metal has already terminated the first and second sub-waves at $22.44 and $20.90 respectively. If the above holds well, prices would rally towards $24.00 in the next few trading sessions. Intraday support is seen towards $21.10-15.
Silver has also managed to carve a lower degree upswing between $20.90 and $21.96 in the past few trading sessions. Furthermore, prices are now retracing the above rally and finding support close to the Fibonacci 0.786 levels as seen on the chart. The high probability remains for a bullish bounce from current levels.
Trading plan:
Potential rally through $24.00-20 against $20.00
Good luck!