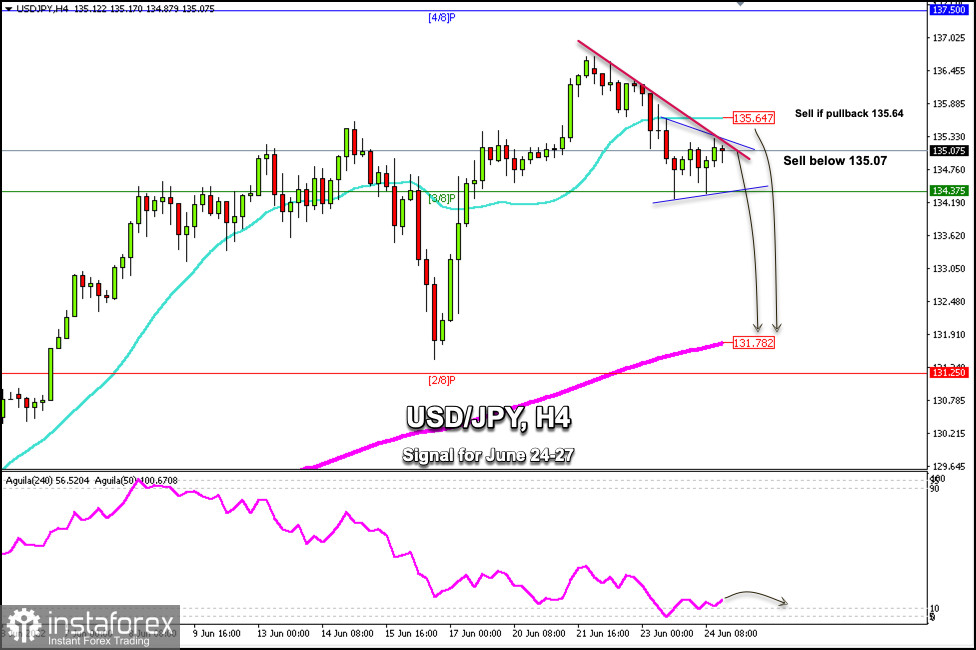 USD/JPY bounced back after hitting the 3/8 Murray support around 134.34. The pair rallied back above the psychological level of 135.00, but it is struggling to consolidate around this level as a bearish channel is in place there.
The significant decline in commodity prices this week appears to have eased fears over persistently rising inflationary pressures and is boosting risk appetite. This will help the yen to strengthen and it could continue to advance next week and reach the 200 EMA located at 131.78 against the US dollar.
On the other hand, the market sentiment is changing and the risk appetite is increasing as a consequence of the positive dynamics of the equity market. USD/JPY could take advantage of this market trend and strengthen, only if it consolidates below the 21 SMA located at 135.64.
On the other hand, for the yen to resume its uptrend, we should expect a daily close above 135.70 as a result of which USD/JPY could hit 136.68, the June 21 high, and even hit 4/8 Murray at 137.50. In case the yen continues to depreciate, there is speculation that the BoJ could force some form of forex intervention that could limit the rise of the USD/JPY pair.
According to the 4-hour chart, we can see that the yen has reached the top of the downtrend channel at around 135.30. Below this level, USD/JPY is expected to drop and reach 3/8 Murray at 134.35 and could accelerate the bearish move towards the 200 EMA located at 131.78.
Alternatively, a pullback towards the 21 SMA located at 135.64 will be an opportunity to sell in the short term. The yen is likely to have a technical correction as it is showing overbought signs. There is a threat from the Bank of Japan to prevent the pair from rising further.
Our trading plan for the next few hours is to wait for a pullback towards 135.64 or sell below 135.07 with targets at 134.37(3/8 Murray), 133.00, and 131.78 (200 EMA).