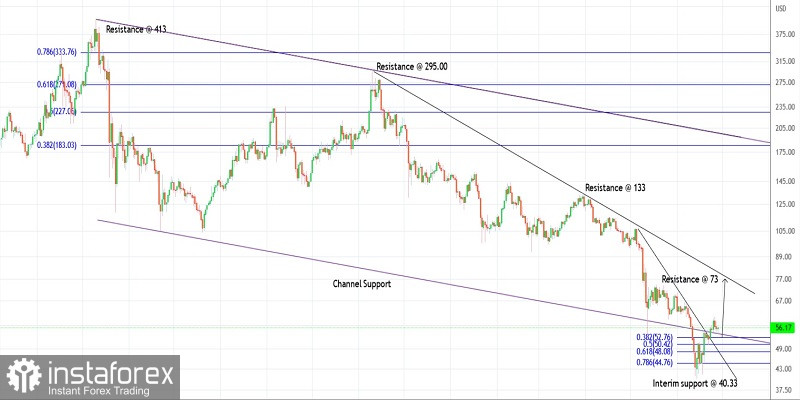 Technical outlook:
Litecoin dropped to $53.00 intraday on Tuesday after printing highs at around $60.00 on Monday. The crypto is seen to be trading close to $56.00 at this point in writing and is expected to resume its move higher soon towards the $73.00 initial resistance as marked on the daily chart. Bulls will remain poised to hold prices above the $40.33 interim support.
Litecoin has carved a larger-degree meaningful drop between $413.00 and $40.33 in the past several weeks. The entire drop might have unfolded as a zigzag and might have terminated at around $40.33. Also, note the throw below channel line support, which is a common guideline before the trend reversal. Prices are also testing the channel support at around $53.00.
A high probability remains for Litecoin to push through $73.00 from here and further. It would confirm a potential trend reversal with respect to price action. The crypto is also on its way to completing its first lower-degree upswing from $40.33. A push of $73.00 will be complete. Traders might be preparing to add more longs with an initial target above $73.00.
Trading plan:
Potential rally through $73.00 against $40.
Good luck!