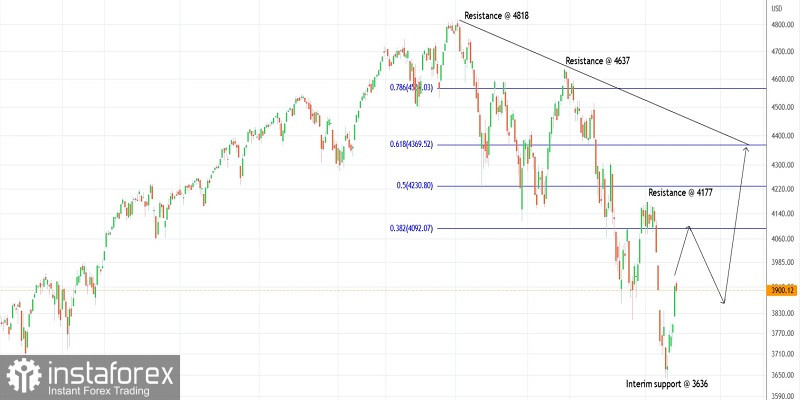 Technical outlook:
The SPX500 rose above the 3,927 intraday highs on Monday before reversing lower and closing the day at around 3,900. The index might have carved an interim high at around 3,927 and could pull back in the next few days. Bulls are now looking poised to hold prices above the 3,636 interim support to keep the near-term structure constructive.
The SPX500 has carved a larger-degree meaningful drop since January 04, 2022, after hitting all-time highs at 4,818. The entire drop between 4,818 and 3,636 might be the first wave of a much deeper correction. If the suggested structure remains intact, the index might produce a meaningful counter-trend rally towards 4,100 at least.
The SPX500 might have initiated the proposed counter-trend rally on June 17, 2022, after printing the 3,636 low as seen on the daily chart here. Prices have got the potential to push through 4,100 from here or after producing a slight pullback. Traders might be preparing to hold long positions and add more at around 3,770 against the 3,600 interim lows.
Trading plan:
Potential rally through 4,100 and up to 4,370 against 3,600
Good luck!