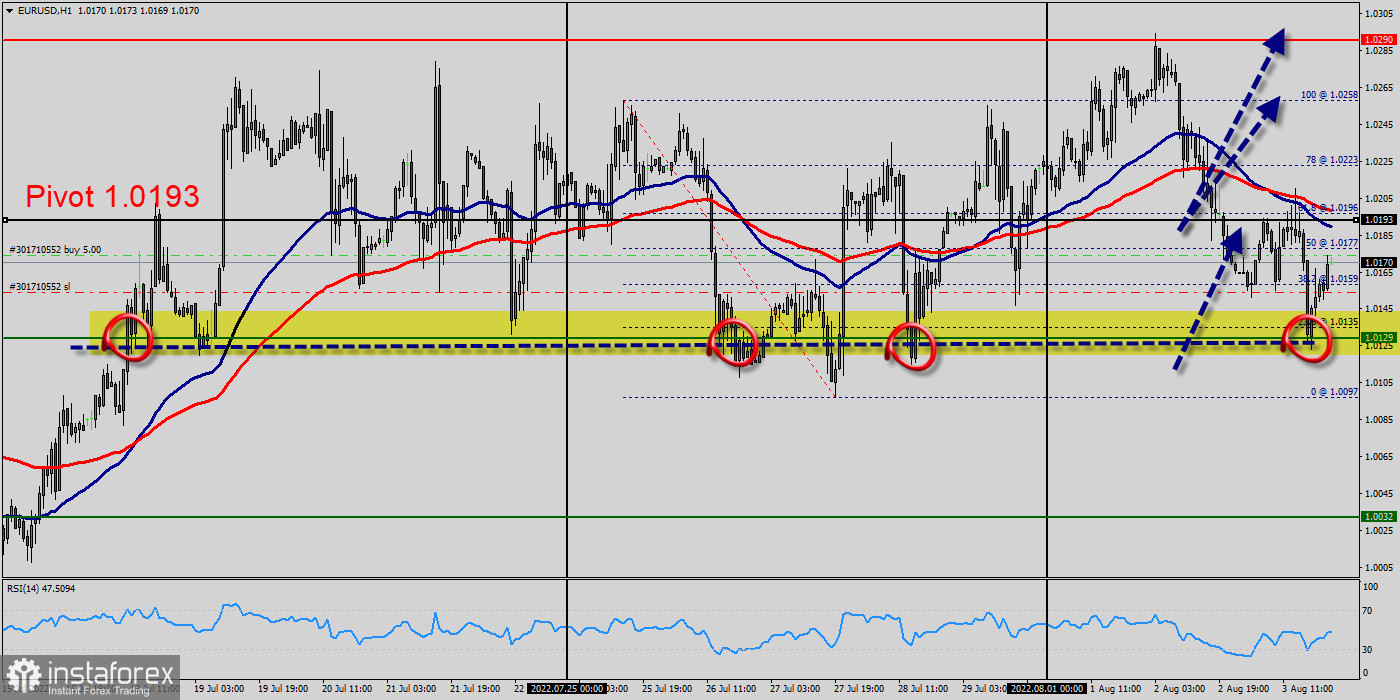 Overview :
The EUR/USD pair trades around 1.0160 level since morning, waiting to get positive motive that assists to push the price to resume the positive trades that target testing 1.0193 level, to keep our bullish overview for today unless breaking 1.0193 and holding with a daily close below it.
Yesterday the EUR/USD pair moved lower and closed the day in the red zone near the price of 1.0193 (pivot point).
Today it, on the contrary, grew a little, having risen to the level of 1.0192. But, the trend rebounded from the double top of 1.0192 to set around the are of 1.0192 - 1.0193.
On the hourly chart, the EUR/USD pair is still trading above the moving average 100 - above the support levels of 1.0097 and 1.0129.
The daily chart for the EUR/USD pair shows that a flat 100 EMA at around 1.0129 provides intraday support but also that the pair remains above the 23.6% retracement of its latest daily climb at 1.0193.
The Momentum indicator picked up within positive levels, moreover the RSI indicator remains directionless at around 50, suggesting a limited bullish potential.
The level of 1.0129 coincides with 23.6% of Fibonacci, which is expected to act as major support today. Since the trend is above the 23.6% Fibonacci level, the market is still in an uptrend.
The situation is similar on the one-hour chart. Based on the foregoing, it is probably worth sticking to the south direction in trading, and while the EUR/USD pair remains below MA 100 H1, it may be necessary to look for entry points to buy for the formation of a correction.
The expected trading range for today is between 1.0129 support and 1.0290 resistance.
The EUR/USD pair is continuing in a bullish trend from the new support of 1.0129. Currently, the price is in a bullish channel. According to the previous events, we expect the EUR/USD pair to move between 1.0129 and 1.0193 (pivot - first resistance).
Consequently, the first support is set at the level of 1.0129. So, the market is likely to show signs of a bullish trend around the spot of 1.0129/1.0159.
In other words, buy orders are recommended above the first support (1.0129) with the first target at the level of 1.0193.
Furthermore, if the trend is able to breakout through the first resistance level of 1.0193. We should see the pair climbing towards the double top (1.0290 ) to test it.
The expected trading range for today is between 1.0129 support and 1.0290 resistance.
It would also be wise to consider where to place a stop loss; this should be set below the second support of 1.0032.