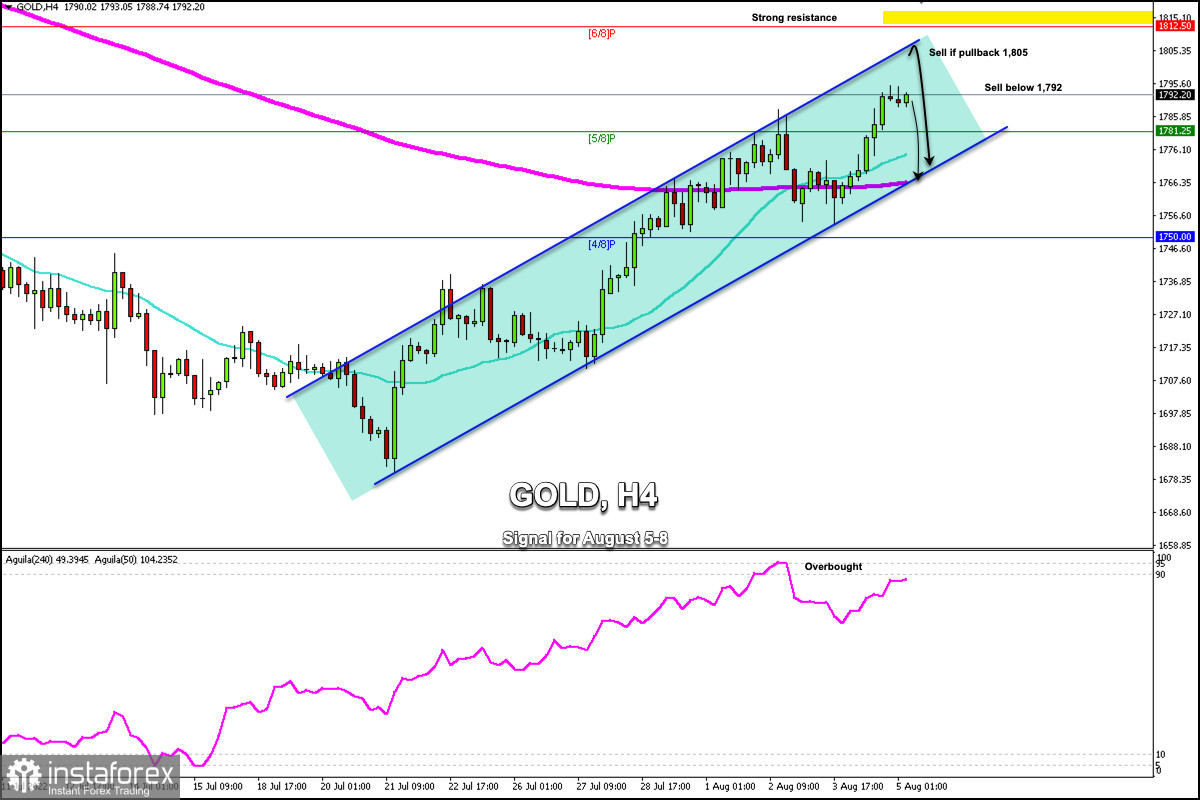 Gold reached a high of $1,794.89 per troy ounce, the level was last seen on July 5th. Concerns about a global recession have put investors on guard. The drop in Treasuries' yields due to the inverse correlation with gold has favored the bullish movement of XAU/USD.
Investors remain concerned about the slowdown in the world economy, which, along with increased military threats from China, could encourage a rise in gold as happened with the Russian invasion of Ukraine.
In the American session, the NFP data will be published and it will be a key point that could influence the price of gold. The price is expected to make a movement correction and it could fall to the support of 1,766 (200 EMA).
According to the 4-hour chart, we can see that in the last 24 hours, gold managed to consolidate above the 21 SMA and above the 200 EMA. The strong bullish momentum enabled the price to break the 5/8 Murray resistance. Now the metal is trading at around 1,792.
Gold is expected to reach the top of the uptrend channel at around 1,805. Looking at the latest Japanese candles, the asset is showing signs of exhaustion and this is likely to be a sign of a technical correction.
As long as gold consolidates above 1,781, it is expected to continue its rise and could reach the psychological level of 1,800 and could even go as far as the strong 6/8 Murray resistance located at 1,812.
On the other hand, a sharp break below the 200 EMA located at 1,760 could accelerate the bearish movement and it could be a clear signal for a decline in gold. Its price could reach 1,750 and even weekly support at 1,735.
Our trading plan for the next few hours is to wait for a pullback towards 1,805. If this movement does not take place, we can sell below 1,792 with targets at 1,776 and 1,765.
The eagle indicator is approaching an extremely overbought zone and any advance towards the resistance 1,812 is likely to be seen as an opportunity to sell in the short term.