Crypto Industry News:
Cryptocurrency bulls seem sleepy ahead of Friday's Jackson Hole conference. At the same time, on August 26, Bitcoin traders' options worth almost USD 1 billion will expire, which may result in volatility depending on the valuation of the cryptocurrency on that day. The king of cryptocurrencies has still not tried for good to attack levels close to the 200 session average below which it slipped last week, causing a massive wave of liquidation of leveraged positions of traders in the cryptocurrency market. Let's take a look at the options market again and the key resistance for Bitcoin to answer the question where the 'king of cryptocurrencies' could land at the end of this week?
The liquidation of the aggressive investors took place during the fall to USD 20,800 which began last week, where the price of Bitcoin landed just after breaking the USD 25,000. This meant a 16.5% drop between August 15-19. The declines in fuels added to the dismal conditions in the real estate market in China, as well as concerns about the further cycle of monetary tightening in the US. It is hard to imagine that the Bitcoin correlating with the indexes would show divergence, so the declines on the American stock exchange each time bring with them a weakening of cryptocurrencies. This week, August 26, nearly $ 1 billion worth of options will expire, and demand has held support at $ 20,800, preventing supply from crossing the red line. The bulls hope their expiration will clear the way for cryptocurrencies north.
Technical Market Outlook:
The BTC/USD pair has been seen testing the lower channel line around the level of $21,000 as the bears are getting ready do break out below the line soon. The momentum is still weak and negative on the H4 time frame chart, bounces are shallow and the market is clearly controlled by bears that might accelerate the sell-off and test the swing low seen at the level of $17,600 again. The nearest technical resistance is located at the level of $22,410.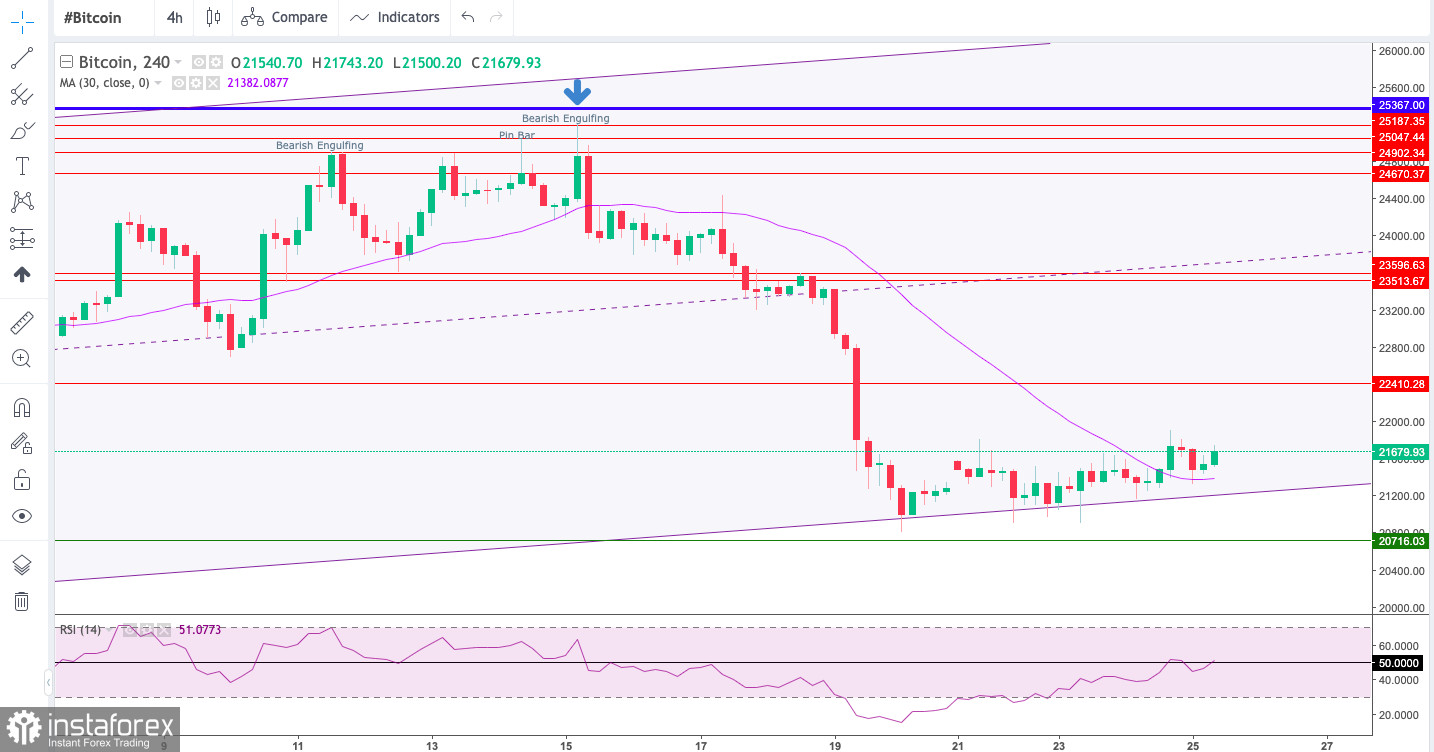 Weekly Pivot Points:
WR3 - $22,059
WR2 - $21,713
WR1 - $21,486
Weekly Pivot - $21,368
WS1 - $21,140
WS2 - $21,022
WS3 - $20,677
Trading Outlook:
The down trend on the H4, Daily and Weekly time frames continues without any indication of a trend termination or reversal. So far every bounce and attempt to rally is being used to sell Bitcoin for a better price by the market participants, so the bearish pressure is still high. The key long term technical support at the psychological level of $20,000 had been violated, the new swing low was made at $17,600 and if this level is violated, then the next long-term target for bulls is seen at $13,712. On the other hand, the gamechanging level for bulls is located at $25,367 and it must be clearly violated for a valid breakout.