El Salvador authorities
Bitcoin has almost hit this year's highs, while other altcoins are stable. Many traders are still concerned about repeated scenarios. After approval of some much anticipated breakthrough idea related to the cryptocurrency market, it collapses immediately. In this case bitcoin ETF is indicated, which was approved by the SEC this weekend. However, it is better to discuss it below. I believe the more exciting news is the proceedings of El Salvador and the International Monetary Fund after the country's authorities introduced bitcoin as one of the alternatives to the national currency.
According to the president of El Salvador's central bank, El Salvador's first-of-its-kind implementation of bitcoin is not an obstacle for the government to reach a $1.3 billion loan agreement with the International Monetary Fund. Central bank President Douglas Rodriguez believes the cryptocurrency has almost lost its reputation as a speculative asset and will soon prove useful as a legal and alternative payment system. He also expects the economy may add about 9.0% this year due to bitcoin's high volatility. "We don't see any risks. Perhaps upside risks," Rodriguez said during a virtual meeting in San Salvador.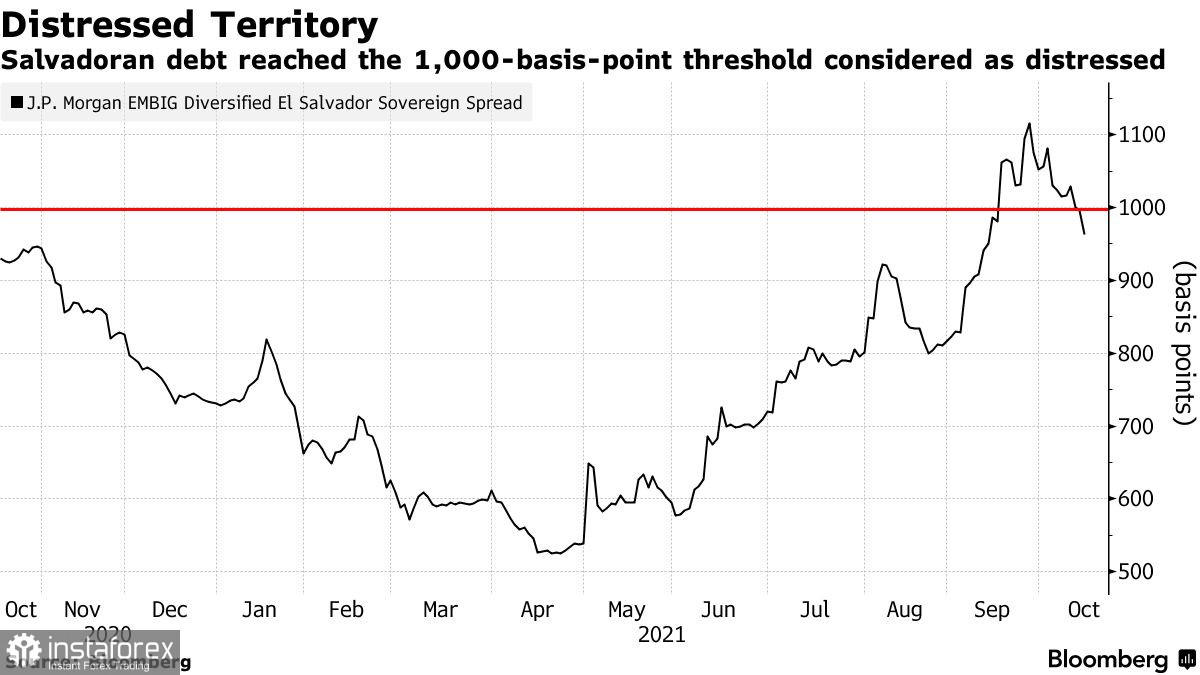 The central bank president also emphasized a potential $1.3 billion extended fund facility by the International Monetary Fund. The IMF is expected to release its latest El Salvador's finances and economy review next month, which may trigger resumed discussions about this tranche. Investors are monitoring the protracted negotiations, especially concerning controversial political decisions by President Naib Bukela, like replacing top judges and making bitcoins legal tender.
Some leading experts point out that the country has no major dollar bond payments until 2023. However, the government has a large debt load and demands a deal with the IMF to help maintain access to international markets next year. "We've explained openly to the IMF: For us, Chivo or Bitcoin is simply a payment method," Rodriguez said.
Notably, this bitcoin manipulation led to the government debt rising above the 1,000 basis point mark to 1,115 points as early as September this year. This is how investors reacted to the recent decisions of the authorities, as the current figure is above the threshold which is considered also quite problematic. In June the IMF warned about the financial and regulatory problems using cryptocurrency. At the same time, Moody's Investors Service said that the move jeopardized a program with the fund. As of now, the risk premium was at 975 basis points, according to JPMorgan Chase & Co.
ProShares launching bitcoin futures exchange-traded fund
I think it is common that the launch of the first bitcoin futures exchange-traded ETF fund took place yesterday. The company confirmed the SEC's announcement that all issues were approved. Before last weekend, the SEC approved a bitcoin futures ETF, which ProShares applied for last summer. In his statement, SEC Chairman Gary Gensler noted that funds linked to the futures market rather than the underlying asset were more likely to receive regulatory approval. News of long-awaited ETF approval caused the world's largest cryptocurrency in market value to hit all-time highs since April. Bitcoin has climbed above $60,000 and is now trading around $63,000.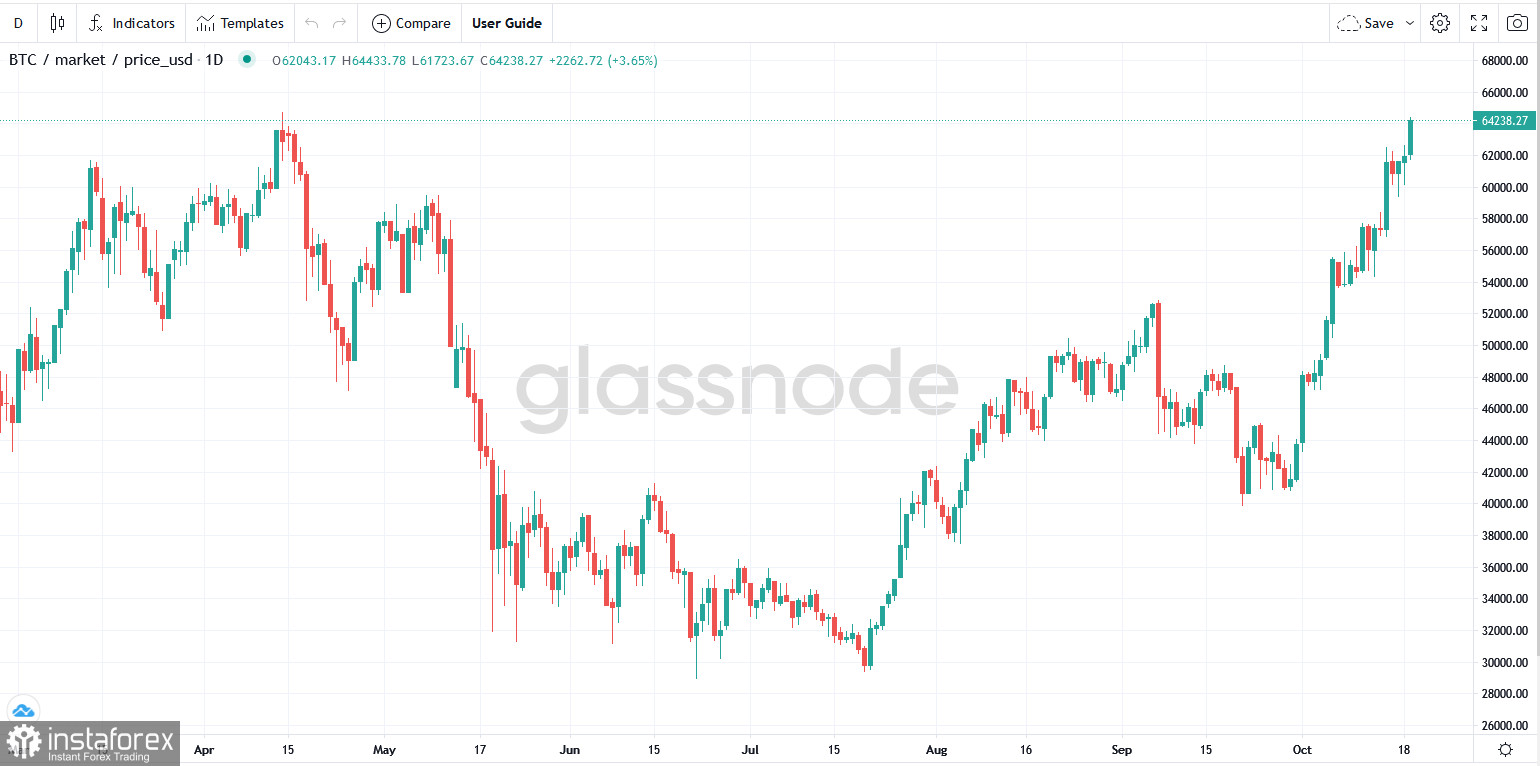 Bitcoin technical chart
If a major bitcoin's decline in the near future is unlikely, and trading continues at $63,200, it is a high chance for a renewal of historical highs. However, the longer the market is stable, the more players,who entered at $55,000, $58,000 and $60,000, will panic. Now more than 90% of bitcoin holders make a profit. Besides, it is a good reason to fix it. In case of bitcoin's flash correction, it is possible to consider support around $58,000 and $54,444. A more distant level is observed in the area of $51,000.