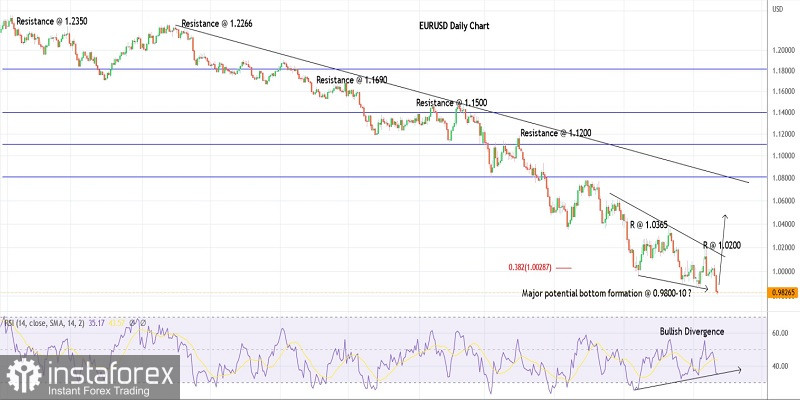 Technical outlook:
EURUSD dropped through the 0.9806 lows early hours of trade on Thursday. The recent sell-off can be accredited to the overall euro's weakness amidst the Fed interest rate hike by 0.75 bps on Wednesday.Technically, a long-awaited pullback rally should materialize any moment, pushing the process through 1.0800 at least.
EURUSD has registered just a shallow low at 0.9806 delaying a pullback rally towards the Fibonacci 0.382 retracement of the entire drop between 1.2350 and 0.9800. It is still seen passing close to 1.00750 and 1.0800 as seen on the daily chart presented here. Immediate resistance is now seen at around 1.0200 and a push higher is required to confirm that the bottom is in place.
We do not intend to speculate on whether a low is in place at 0.9806 but would certainly wish to bring to notice a strong bullish divergence on the daily RSI. With each swing low from 0.9950, the RSI has been printing higher lows as marked on the chart. A high probability remains for a bottom formation soon as the bulls prepare to be back in control.
Trading idea:
Get ready for a bullish reversal soon.
Good luck!